Video:
Endless Pink Coral Forest in Papahānaumokuākea
Our ocean explorers spotted this gorgeous coral forest filled with pink Hemicorallium corals while exploring the deep sea around King George Seamount during the first dive of our Ala 'Aumoana Kai Uli (NA154) expedition. Seeing this seemingly endless landscape of precious deep-sea corals within Papahānaumokuākea Marine National Monument (PMNM) was an enchanting moment for our Corps of Explorers. 
According to the ancient belief system of Hawaiʻi (which still exists today), this region largely north of the Tropic of Cancer and west of the population centers of Hawaiʻi is known as Pō - a sacred realm of gods and ancestral spirits. PMNM is a place of tremendous natural wonders and is also a place of deep cultural significance for Native Hawaiians. As E/V Nautilus voyages to the sacred islands of Kānaka ʻŌiwi (Native Hawaiians), we gratefully acknowledge past generations of Kānaka ʻŌiwi and today's stewards of these waters and honor ʻŌiwi knowledge systems. 
Learn more about this expedition funded by NOAA Ocean Exploration via the Ocean Exploration Cooperative Institute.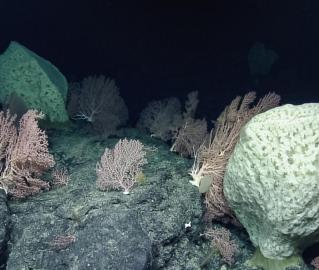 E/V Nautilus Expedition
Ocean Exploration Trust and partners will conduct a telepresence-enabled expedition to explore unseen deep-sea habitats aboard E/V Nautilus with ROV and seafloor mapping operations in the Papahānaumokuākea Marine National Monument (PMNM) focused on the largely unexplored northwestern section of the Monument.