Video:
Fossilized Face- Ancient Beaked Whale Skull Found in Papahānaumokuākea Marine National Monument
The team was surprised to come face-to-face with an ancient beaked whale skull while diving on the never-before-surveyed Don Quixote Seamount in Papahānaumokuākea Marine National Monument.
Spotted around 2390m (7841 feet) on the northern flank of the peak, the bone blends in with the surrounding basalt lava flows. Both are covered by a thick manganese polymetallic rock coating, meaning it has likely been in place for hundreds of thousands, possibly millions of years.
In the Central Pacific, this dark rock forms over all of the seafloor. One part of this expedition's goals is to learn more about the geologic history of the region including questions about the rate these rock crusts form and the age of these ancient seamounts.
Beaked whales are toothed cetaceans with unique adaptations for foraging in the open ocean at deep depths. Adaptations to this extreme environment include collapsing lungs which allow them to dive much deeper than other predators.
This isn't the first observation showing interaction of large mammals with the seafloor. Learn more in a paper by Nautilus Corps of Exploration members Dr. Leigh Marsh and Dr. Diva Amon about the interactions between large vertebrates and the abyssal Pacific Clarion–Clipperton Zone, and what implications they may have for future ecological assessments and environmental management.
E/V Nautilus along with partners from the NOAA Office of National Marine Sanctuaries and the Ocean Exploration Cooperative Institute are conducting the first of its kind exploration of a seamount group to investigate if these features are an extension of the Wentworth Seamount Chain, west of Hawai'i. Learn more about the Luʻuaeaahikiikapapakū expedition.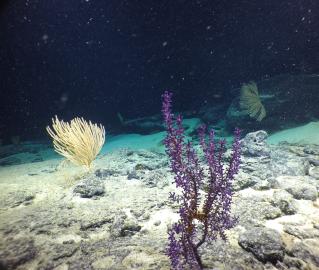 E/V Nautilus Expedition
Returning to Papahānaumokuākea Marine National Monument (PMNM) after an expedition in 2018, our team will be conducting ROV surveys on a chain of seamounts, and document whether these underwater mountains support vibrant coral and sponge communities like others in the region.