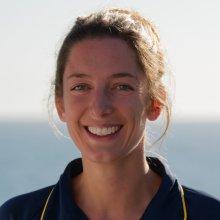 Leigh Marsh
Science/Data Team
Deep Sea Ecologist
Consultant and Visiting Research Fellow, University of Southampton
Tell us about your work/research. What kinds of things do you do?
I am interested in the application of autonomous and robotic technologies to investigate the distribution and abundance of deep-sea animals and the relationship between these animals and their environment. To do this, I specialize in the acquisition, processing, and analysis of ROV and AUV imagery and remote sensing data for vulnerable ecosystems in the deep ocean. My work is a multidisciplinary research that relies on the expertise of geoscientists and biologists to investigate the community structure, composition, and ecological dynamics, and how these are altered by anthropogenic impacts (e.g. mining, trawling) and environmental change (e.g. climate, natural hazards).
What sparked your initial interest in your career?
I've always been interested in marine biology - the ocean is so vast and what was going on below the surface has always intrigued me. During my undergraduate degree, I took a module in deep-sea ecology – and I couldn't believe the ecosystems that existed at these great depths; abyssal plains, complex canyon systems, rugged seamounts and hydrothermal vents – each environment was so very different. I think what fascinated me more was how scientists discovered and mapped these environments, and how the technology was being developed to explore, observe and sample them.
Who influenced you or encouraged you the most?
During my undergraduate, I realized that I wanted to continue with my studies and pursue a Ph.D. – however, I knew I had to wait for the right project, with the right Ph.D. advisors. My advisors have had a pivotal role in my development, without their support, guidance, and advice – I would not be where I am today. I have also been fortunate enough to work with some incredible scientists on board the Nautilus. Maintaining a career as a deep-sea researcher is not always easy, and there is no defined path, but I am grateful to have the opportunity to meet and work with so many inspiring people.
What element of your work/study do you think is the most fascinating?
Discovering the unexpected. Many discoveries in ocean exploration are made by observing the ocean in a new way and some of the biggest discoveries are often not part of the original science objectives. Every time the ROV makes a dive, or the ship maps the seafloor, there is always potential to discover something that no-one expected.
What other jobs led you to your current career?
After my undergraduate degree, I spent one year working for UK government bodies, with a specific focus on the coastal and inshore marine environment and a further three years within a marine consultancy and survey company, primarily for the marine aggregates and offshore renewable sectors. I then went on to study for a Ph.D. in Antarctic hydrothermal vents, and then worked as a research fellow within a Geology and Geophysics department for 3 years – specializing in seafloor mapping. Before setting up as an independent, I also worked in media communications focusing on marine robotic and autonomous systems. It's been a diverse career to date, but from each job, I have learned new skills – all of which have contributed to where I am today.
What are your degrees and certifications?
Masters of Oceanography (4-year integrated MOcean), University of Southampton, UK.
Ph.D. in deep-sea ecology, University of Southampton, UK.
What are your hobbies?
I live on the southwest coast of the UK in Dorset, which is beautiful, so I just enjoy being outdoors. I love being in and on the water, swimming, windsurfing, sailing, paddle boarding. I also recently joined a netball team – which is great fun as I haven't played since school!
What advice would you give someone who wants to have a career like yours?
Keep an open mind. There are so many opportunities and possibilities for marine science and ocean exploration – and so many different avenues. Talk to people, find out about opportunities and be willing to take a chance and try something new – it could just be the break you are looking for. 
How did you get involved with the Nautilus Exploration Program?
I joined the Nautilus in 2012 as a scientific watch-lead on a UK-US joint expedition to the world's deepest hydrothermal vents in the Mid-Cayman Spreading Center, Caribbean. Since then, I've been fortunate enough to have been invited back as a Science and Data Manager and this will be the sixth season onboard.
Expeditions
Leigh participated in the following Ocean Exploration Trust expeditions:
Selected Publications
2020
(2020).
Characterization of deep-sea benthic invertebrate megafauna of the Galapagos Islands.
Scientific reports
10 (1): 1-13.