Video:
The Tools of GISR
During the GISR (Gulf Integrated Spill Response) dives, the science team and ROVs are diving on natural methane seeps emanating from the sea floor. Many of the seeps we'll be diving on this week are known seeps that scientists who study natural hydrocarbon seeps have studied for some time.
During these dives, the team is taking many different measurements with a variety of instruments. While these instruments have been thoroughly tested in labs on shore, for many of them this is their first "sea trial." Learn more about the intstruments here.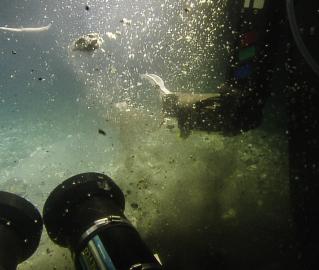 Expedition
This cruise is part of the Gulf Integrated Spill Response (GISR) Consortium, funded by the Gulf of Mexico Research Initiative (GoMRI). The vision of the GISR Consortium is to understand and predict the fundamental behavior of petroleum fluids in the ocean environment. This capability is critical to inform decisions during response to oil spills and for development of mitigation plans, ultimately yielding significant environmental and financial savings.