Video:
Shipwreck 15577 The Introduction
A first look at shipwreck 15577, a skeletal outline of a ship where marine organisms have consumed most everything they are capable of digesting. Among the cluster of remaining artifacts, Hercules spots a long gun, an anchor, and a collection of other interesting objects.
Video courtesy of Ocean Exploration Trust and the Meadows Center for Water and the Environment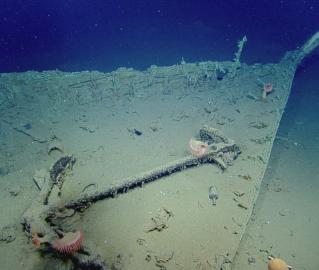 Expedition
The Discovery
In April 2012, the National Oceanic and Atmospheric Administration (NOAA) ship Okeanos Explorer conducted the first reconnaissance of shipwreck site 15577 as part of an interdisciplinary exploration mission focusing on deepwater hard-bottom habitat, naturally occurring gas seeps, and potential shipwrecks in the Gulf of Mexico.