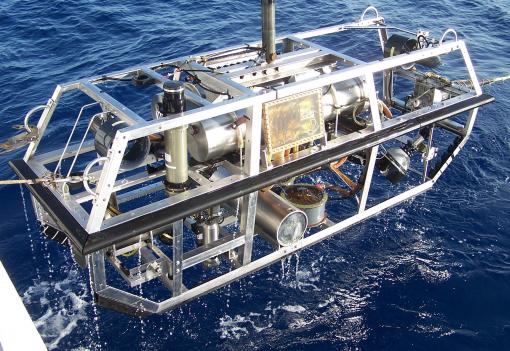 Todd Viola / Sea Research Foundation
The primary responsibility of remotely operated vehicle (ROV) Argus is to keep its watchful eye on ROV Hercules during deep dives. Generally, Argus is used in tandem with Hercules, where it hovers several meters above the larger ROV to provide a bird's-eye view of the seafloor. 
Named for a hundred-eyed mythological Greek giant, the "all-seeing one" was first launched in 2000 as a deep-tow system capable of diving to depths of 6,000 meters (19,700 feet). However, in working with Hercules, Argus is currently limited to exploring to 4,000 meters (13,000 feet). It is tethered to the ship by a 4,200-meter-long (13,800 feet) fiber-optic cable armored in steel. Argus is then connected to Hercules by a 36-meter (120-foot) yellow tether cable that houses three copper wires and fiber optics allowing data and 2,700 volts of electricity to pass from the ship through Argus and down to Hercules. 
The stainless steel ROV serves as the middleman between Nautilus and Hercules and is equipped with an altimeter to measure altitude, or the distance between the submersible and seafloor. Argus lacks buoyancy and absorbs the brunt of ship movements so that Hercules can operate smoothly to provide continuous live-streamed video. Argus is also capable of operating as a standalone system for large-scale survey missions, as was the case during the 2019 Search for the Samoan Clipper when the tow-sled set a record of more than 120 consecutive hours underwater conducting sidescan sonar and visual surveys.
Argus is equipped with several cameras, including one that is high-definition and typically aimed  downward to watch Hercules. There is no natural light that reaches the depths at which the two ROVs operate, so Argus uses a flood of LED lights to illuminate the area around Hercules, allowing pilots and scientists a wide view of the marine environment and to ensure that the ROV is safe from any potential obstacles that may obstruct its movements. Pilots located in the control van aboard Nautilus control Argus' 360-degree water movements using two thrusters. Otherwise, its movements are largely controlled by moving the ship or raising and lowering the cable.
Weighing 2,100 kilograms (4,700 pounds) in air and 1,360 kilograms (3,000 pounds) in water, Argus measures about the same size as a minivan. Electrical panels and wires located on the robot are protected from extreme pressures and saltwater corrosion through their encasement in clear, thick plastic boxes filled with mineral oil. Argus is hoisted in and out of the water using an A-frame and winch cable system located on the aft deck. 
Learn More: The Tools of Exploration
Science & Tech
Ocean exploration is a dynamic balance of understanding science and using the best in underwater technology.
Expeditions
Get a sneak peek of where we're headed next or revisit the discoveries of our past expeditions.
Classroom Resources
OET hosts a suite of free educational materials for use in classrooms, at home, or in the community.
ROV Argus At-a-Glance
General
 6,000 meters (19,685 feet), currently limited to 4,000 meters
 7,000 meters (14, 764 feet), 0.681 electro-optical, 3x #11 conductors, 4x SM fibers
 3.8 meters long × 1.2 meters wide × 1.3 meters high
 2,100 kilograms (4,700 pounds) in air.  3000 pounds in water
2 knots
 30 meters/minute, (98 feet/minute) max
Two Tecnadyne Model 1020 thrusters for heading control
Imaging & Lighting
One Insite Pacific Zeus Plus high-definition camera with Ikegami HDL-45A tilt head with Fujinon HA 10×5.2 lens – 1080i SMPTE 292M output format – 2 MP still image capable
Three utility cameras (fixed mounted) 480 line NTSC format
One Deep Sea Power & Light Wide-i SeaCam, downward-looking standard definition camera (fixed mounted)

Three CathX Aphos 16 LED lampheads, 28,000 lumens each
Two Deep Sea Power & Light 250 Watt incandescent lights
Vehicle Sensors & Navigation
NavEst integrated navigation system solution
 Sonardyne Ranger 2
 Crossbow high-resolution magnetic motion and attitude sensor
 Lord Microstrain 3DM-GX5-25 Attitude and Heading Reference System (AHRS)
 Paroscientific Digiquartz 8CB series
 Benthos PSA-916
 Mesotech 1071, 300 kHz, 0.5–100 meter range typical
TriTech SeaKing Parametric Sub-bottom Profiler (10–30 kHz)
Scientific Instrument Support
 110 V 60 Hz AC, 24 VDC and 12 VDC power options
 Ethernet