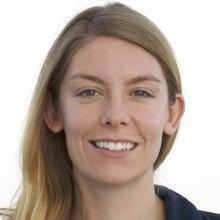 Nicole Raineault
Expedition Leader
Chief Scientist & VP, Exploration & Science Operations
Ocean Exploration Trust
Tell us about your work/research. What kinds of things do you do?
As the Chief Scientist at OET, I work with our extended network of scientists to organize and plan the science objectives of the cruises and work with museums and repositories for sample and data curation to ensure the scientific legacy of expeditions. As an Expedition Leader, I facilitate seeing those plans through on board the Nautilus. I also oversee the Wet Lab and mapping systems and mentor an amazing team of Science Managers, navigators, and interns.
What sparked your initial interest in your career?
I grew up peering into tide pools and digging holes in the beach reveling in the layers of fine and coarse sand, gravel, and shell. I always wondered what was under the surface of the ocean, not just below my feet as I swam, but beyond the horizon. I certainly read a lot of Robert Ballard and Rachel Carson's books growing up and thought that ocean exploration sounded exciting and protecting the natural world was important.
Who influenced or encouraged you the most?
My parents always supported my interest in science by giving me books, helping me with science projects, and taking me to the shore, to Saturday Science programs, or to hear lectures outside of school. I have been incredibly fortunate to find academic mentors throughout my undergraduate and graduate career who took my aspirations seriously and provided opportunities to work in the field or their lab. 
What element of your work/study do you think is the most fascinating?
There is always the excitement of seeing the seafloor in a new place for the first time. It's incredible to create the first maps of an area, choose a feature for an ROV dive, and in a matter of hours see what is there! It takes an incredible, diversely talented team of people to conduct deep-sea exploration and each of us, scientist, engineer, educator, student, can be astounded, amazed, or puzzled by what we discover!
What other jobs led you to your current career?
My many research jobs working in labs and the field prepared me for my current career. I took every opportunity I could to learn how to use new technologies and work in the field. The lessons learned planning and carrying out fieldwork for many projects during my PhD, from timing an intertidal instrumented frame recovery with the tides and weather to having contingency plans for working with complex pieces of equipment in harsh environments, helped develop my logistics, strategy, and problem-solving skills. 
What are your degrees and certifications?
Bachelor of Science in Marine Science and Geology,
Master of Science in Oceanography,
Doctor of Philosophy in Geological Sciences
What are your hobbies?
I love to be active: CrossFit, hiking, running and biking, and I also love to play on the water (swimming, rowing, paddle-boarding). Recipe testing is one of my favorite ways to relax. 
What advice would you give someone who wants to have a career like yours?
Although both the environmental (at-sea) and technological aspects of my work provide constant challenges, the reward for going where no one has been and using new tools to gather data is immense. I recommend learning as much as you can about technology and how to apply them to your research interests. Seek out new opportunities to gain experience by reaching out to people doing what you want to do, and asking if you can help in the lab or the field.
How did you get involved with the Nautilus Exploration Program? How did you get on the ship?
My first experience with Nautilus was as a Navigator in 2010, as a PhD student. The cruise focused on locating and documenting ancient shipwrecks using sidescan sonar and ROVs in the Mediterranean Sea. It was my first long at-sea trip, and after that, I was hooked on sea-going, deep-sea exploration! I returned in subsequent summers as a Data Logger and Data Manager before being trained as an Expedition Leader. 
Expeditions
Nicole participated in the following Ocean Exploration Trust expeditions:
Selected Publications
2023
2022
(2022).
Initial Results from E/V Nautilus Expedition NA128 "Cascadia Margin Seep Exploration": Cascadia Margin Mapping, High-Resolution ROV Multibeam, and Gas/Fluid Sampling .
2022 Ocean Sciences Meeting
(2022).
Microbial ecosystem services and associates with ferromanganese crusts on seamounts of the Papahanaumokuakea Marine National Monument: Initail Results.
2022 Ocean Sciences Meeting
2021
(2021).
Distribution of Methane Plumes on Cascadia Margin and Implications for the Landward Limit of Methane Hydrate Stability.
Frontiers in Earth Science