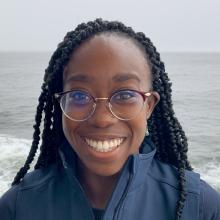 Moronke Harris
Ocean Science Intern
Graduate Student
University of Victoria
Tell us about your work/research. What kinds of things do you do?
I am a graduate student within the Juniper Lab under Dr. S. Kim Juniper (Chief Scientist, Ocean Networks Canada). My thesis focuses on using a combination of seafloor mapping, photogrammetric surveys, and microbial genetics to evaluate microbial community structure along a gradient from active hydrothermal vents to extinct, eroding mineral deposits. We are exploring approaches for addressing potential use conflict between mineral and microbial resource extraction. Marine microorganisms are frequently overlooked in environmental impact assessments and conservation strategies despite their critical role in ecosystem function and mostly unexplored potential as a source of genetic novelty for bioprospecting. We are developing a 'microbial landscape modelling' methodology for the evaluation of genetic resources associated with seafloor massive sulphide deposits. This will inform current discussions about biodiversity and ecosystem function loss that may result from deep-sea mining of sulphides at hydrothermal sites.
Beyond academic pursuits, I am a science-communication enthusiast and avid visual artist 'The Imaginative Scientist'. Under the umbrella of my brand, I aim to blend science and visual artistry in ways that make science accessible, impactful, engaging to all. My website (www.moronkeharris.com) details research, science communication, and visual art involvement.
What sparked your initial interest in your career?
Observation of the largely unexplored ocean offers an unparalleled opportunity for revolutionary discoveries and the attainment of scientific milestones. I have been enthralled by this concept since I was young thanks to the help of multiple ocean exploration documentaries. As a child, my family traveled often and I would spend hours investigating any pools, rivers, lakes, and oceans I could get to. It was always a hassle to get me out of the water. The older I got, the more my interests grew and by the time I was in my undergraduate program I knew oceanography was a field I wanted to explore. In my final year, I wrote a literature review on the comparative potential effects of both climate change and deep-sea mining on hydrothermal vent systems, and my research interests became solidified in the blue economy, biogeochemistry, sea-floor mapping, and extreme environments.
Who influenced you or encouraged you the most?
I owe my determination to my parents who could not always relate to my love for ocean exploration but nurtured my passions wholeheartedly, nonetheless. Outside of the support of my family, I have had the fortune of meeting wonderful scientists who have had a large impact on the trajectory of my career by sincerely supporting every initiative I have undertaken and welcoming career updates. Thank you to Drs. Yvonne Sawall and Damian Grundle at Bermuda Institute of Ocean Sciences for providing invaluable career advice as well as opportunities for publications and conference presentations. I would also like to thank Professor Elizabeth Boulding at the University of Guelph for providing my first opportunity to conduct marine studies as a Research Assistant within her Department of Integrative Biology laboratory and continuing to support my efforts ever since. All of these individuals have been exemplary mentors and shining examples of the supportive aspects of the marine science community.
What element of your work/study do you think is the most fascinating?
The most fascinating part of my work is the rarity, the uniqueness of location, and the potential for discovery. Thousands of meters under the ocean's surface exists a world that survives and thrives in the absence of sunlight. Here, scientists explore areas of the Earth few have seen, and contribute to the discovery of our 'final frontier'. It's all so thrilling!
What other jobs led you to your current career?
Diverse research placements have taken me from using image analysis to quantify Canadian barnacle microtopography (University of Guelph, Canada), to studying climate engineering tactics in the Bermudian ocean (Bermuda Institute of Ocean Sciences), to facilitating large-scale water quality monitoring programs and examining the effects of specialized clay technology on both Florida red tide mitigation and the chemical and physical properties of seawater (Mote Marine Laboratory, USA). Most recently I worked with the North Pacific Anadromous Fish Commission, an intergovernmental organization collaboratively run by 5 member countries (Canada, United States, Japan, South Korea, and Russia), on hydrochemical characterization of the single-vessel 2019 International Gulf of Alaska Expedition survey area and planning and preparation for the proposed four-vessel 2022 Pan-Pacific High Seas Expedition. My involvement with the 2019 survey required processing carbon and nitrogen stable isotope data from phytoplankton in collaboration with members of the 2019 scientific team from University of British Columbia (Canada) and the Pacific Branch of the Russian Federal Research Institute for Fisheries and Oceanography (Russia). As the first in decades to extensively characterize winter high seas, the expedition successfully established a baseline of environmental and ecosystem-level measurements for future comparisons. By characterizing winter isoscapes (mapping of stable isotope distributions of organisms from a specific trophic level) in the Gulf of Alaska, we aim to both provide an isotope baseline for application in ocean productivity and trophic studies and validate existing predictive models for Gulf of Alaska isoscapes that use satellite‐based data. Outside of research, I worked for municipal government in Environmental and Community and Health Services records. Each experience has provided me with unique learning opportunities.
What are your degrees and certifications?
Bachelor of Science (Honours) in Biological Science -- University of Guelph 2017; Certificate in Geographic Information Systems for Environmental Management -- University of Toronto 2022 (ongoing); Canadian Red Cross Emergency First Aid & CPR Level HCP; Canadian Red Cross Basic Life Support & Oxygen Therapy/Administration; PADI Advanced Open Water Diver
What are your hobbies?
If I did not choose science, my post-secondary training would have been in visual art. I love to paint (oils, acrylics, and watercolor) and draw, however hand and wheel-thrown pottery are my all-time favorites! Outside of this, I love to travel and have had the fortune of visiting 36 countries over 5 continents.
How did you get involved with the Ocean Exploration Trust?
I came across the Science and Engineering Internship Program while searching for deep-sea exploration opportunities. As a former North Pacific international research expedition facilitator with interests shaped by an interdisciplinary blend of microbiology, anthropogenic effects, and biogeochemistry within deep-sea environments, I knew an internship aboard the E/V Nautilus would provide me with the invaluable opportunity to apply my academic and professional knowledge to deep-sea endeavours while gaining a first-hand understanding of shipboard operations. I am thrilled to have the opportunity to contribute to Ocean Exploration Trust initiatives!
What advice would you give someone who wants to have a career like yours?
Try, try, and try again. It is cliché but I have truly found that when one door closes another always opens. Be prepared to take advantage of any possibility that comes your way. Go after internships and research assistantships if you have the opportunity to. Do not rely solely on academic averages, the experience is priceless. Personalize your applications and apply for things you may not think you are fully qualified for – you may surprise yourself or end up improving your skills for next time! Additionally, do not be afraid to ask for help, or to ask others that you look up to how they got where they are. In my experience professionals are happy to advise those at earlier stages in their career. Without that wonderful support network, I would not be where I am.
Expeditions
Moronke participated in the following Ocean Exploration Trust expeditions: