Blog:
5 Black Ocean Explorers You Should Know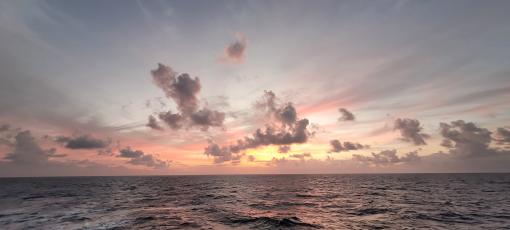 Ocean Exploration Trust
In honor of Black History Month, we're featuring a few of our favorite Black ocean explorers. Check out these five scientists, educators, artists, communicators, and ocean explorers who help bring the world of ocean exploration to audiences everywhere.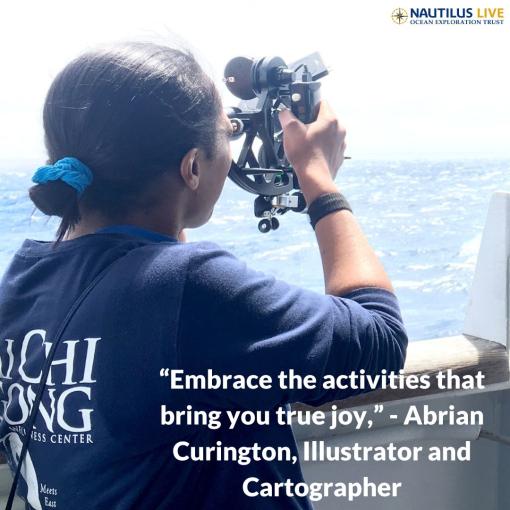 Credit
Ocean Exploration Trust
Abrian Curington, Illustrator and Cartographer
Abrian Curington specializes in merging science and art. She has published several graphic novels and comics through her small press business and has been awarded the Artist Trust Grants for Artists' Progress and curated the Franke Tobey Jones Statewide Art Show. Abrian's experience at sea includes her 2021 and 2022 OET Science Communication Fellowship and her Schmidt Ocean Institute Artist-at-Sea Residency. 
Learn more about Abrian through her website, Twitter, and Instagram.
"Embrace the activities that bring you true joy." - Abrian Curington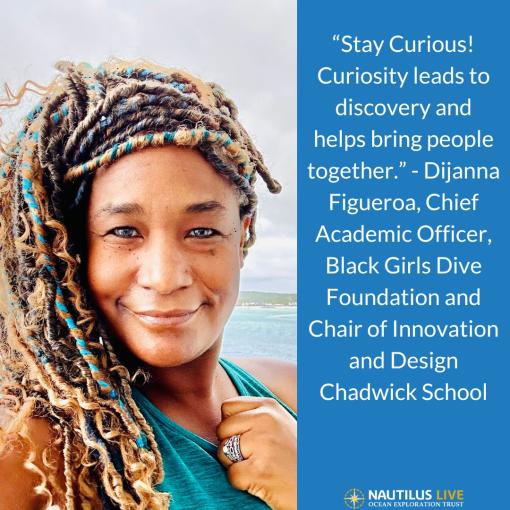 Credit
Ocean Exploration Trust
Dijanna Figueroa, Chief Academic Officer, Black Girls Dive Foundation and Chair of Innovation and Design, Chadwick School
Dijanna Figueroa is an educator that works at the intersection of science, technology, engineering, art, entertainment, and innovation. Despite starting her career as a deep sea marine scientist, she currently leads the innovation and design department at an independent school in Los Angeles. Dijanna has over 50 Deep Submergence Vehicle Dives and has dived to depths greater than 3,000 meters on Alvin, Mir 1, and Mir 2. Dijanna joined OET during our 2022 expedition season as a Science Communication Fellow.
Learn more about Dijanna through her website and Instagram.
"Stay Curious! Curiosity leads to discovery and helps bring people together." - Dijanna Figueroa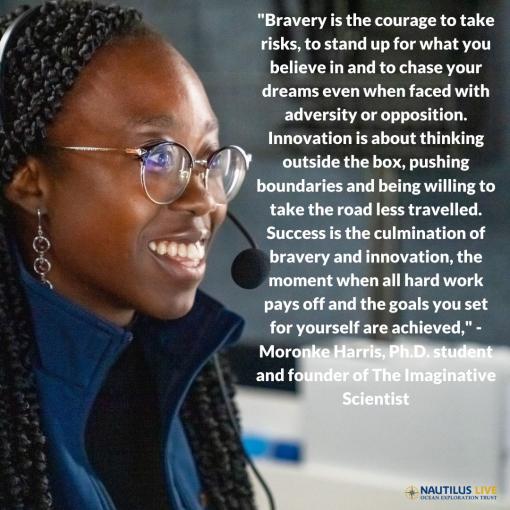 Credit
Ocean Exploration Trust
Moronke Harris, PhD Student, University of Victoria and Founder, The Imaginative Scientist
Moronke Harris is an oceanographer who has returned to academia after working in the industry on climate engineering and intergovernmental, multi-vessel research expedition planning. Her research focuses on the most unexplored areas of the ocean, containing the most potential for discovery and specializing in hydrothermal vent ecosystems. Moronke is also the founder of The Imaginative Scientist: a science communication brand blending traditional outreach and artistry to produce an audience-first approach that engages, invites, and inspires curiosity. With 25+ national and international speaking engagements under her belt, Moronke is well-versed in enthusiastic and knowledgeable outreach. She joined OET as an Ocean Science Intern in 2021.
Learn more about Moronke through her website, Twitter, Instagram, and TikTok.
"Bravery is the courage to take risks, to stand up for what you believe in and to chase your dreams even when faced with adversity or opposition. Innovation is about thinking outside the box, pushing boundaries and being willing to take the road less travelled. Success is the culmination of bravery and innovation, the moment when all hard work pays off and the goals you set for yourself are achieved." - Moronke Harris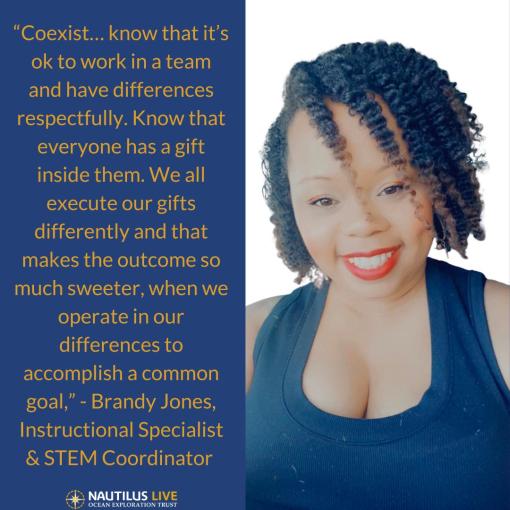 Credit
Ocean Exploration Trust
Brandy Jones, Instructional Specialist & STEM Coordinator 
Brandy Jones is an elementary STEM coordinator whose mission is to cultivate 21st-century skills for students and develop their abilities to be creative, think critically, collaborate, and communicate effectively. She coaches a team of educators who are passionate about STEM education and supporting lesson delivery, professional development, and organizing problem-based learning. Brandy believes that STEM truly offers students from different ability levels an opportunity to show their inner genius in a different way. Brandy started her OET journey as a Science Communication Fellow(SCF) in 2019 and become a Lead SCF when she returned to sea in 2022.
Learn more about Brandy through her Twitter and Instagram.
"Coexist… know that it's ok to work in a team and have differences respectfully. Know that everyone has a gift inside them. We all execute our gifts differently and that makes the outcome so much sweeter, when we operate in our differences to accomplish a common goal," - Brandy Jones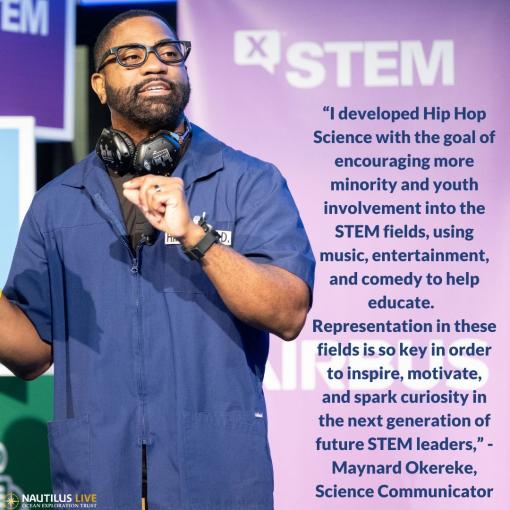 Credit
Ocean Exploration Trust
Maynard Okereke, Science Communicator
Maynard Okereke (aka the Hip Hop M.D.) is an award-winning science communicator, STEM advocate, and keynote speaker. He created the Hip Hop Science platform to bridge the gap between music, entertainment, and science by introducing scientific elements into everyday pop culture. Maynard's work aims to educate and encourage more minority involvement to the STEAM fields via an entertaining perspective. Through his social media channels, interviews, and explorations, he generates engaging content that teaches science in new and interesting ways. Maynard was a Science Communication Fellow for OET in 2021.
Learn more about Maynard through his website, Twitter, Instagram, YouTube, and TikTok.
"I developed Hip Hop Science with the goal of encouraging more minority and youth involvement into the STEM fields, using music, entertainment, and comedy to help educate.  Representation in these fields is so key in order to inspire, motivate, and spark curiosity in the next generation of future STEM leaders." - Maynard Okereke