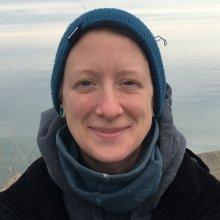 Lynette Davis
ASV Scientist/Engineer
Graduate Student
Center for Coastal and Ocean Mapping / University of New Hampshire
Tell us about your work/research. What kinds of things do you do?
I am currently a graduate student in both Computer Science and Ocean Engineering – Ocean Mapping, and I'm working at the intersection of these fields to improve the autonomy of autonomous surface vessels (ASVs). My thesis work focuses on developing automated, real-time bathymetric data quality control for ASVs and using resulting data quality cues to guide the behavior of the vessel with minimal human intervention. 
What sparked your initial interest in your career?
I've long been fascinated by the work and lives of explorers; their stories inspired me to explore what remains of the world's undiscovered regions and pursue a career in ocean mapping.
Who influenced you or encouraged you the most?
My first real exposure to engineering was a result of working with Dr. Greg Piefer, whom I met at the University of Wisconsin. He has become a long-time friend and mentor that has provided endless support and encouragement.  
What element of your work/study do you think is the most fascinating?
Getting to explore regions that have never been seen!
What other jobs led you to your current career?
My career path has been pretty atypical: I have worked as a deckhand on sailing vessels, but have spent most of my time as a metalsmith and veterinary assistant. 
What are your degrees and certifications?
Bachelor of Fine Arts, University of Wisconsin, 2010.
What are your hobbies?
Lumberjack sports, woodworking, metalsmithing. 
How did you get involved with the TBNMS project with OET?
I will be participating as a member of the autonomous surface vessel (ASV) group from the Center for Coastal and Ocean Mapping at the University of New Hampshire, which collaborates with Ocean Exploration Trust.
What advice would you give someone who wants to have a career like yours?
Study hard in your math, statistics, and programming courses! And don't be afraid to pursue a career path that is different from your background—you will bring new ideas and a fresh perspective that can be invaluable.