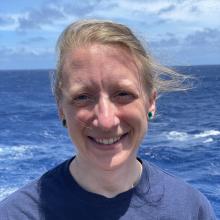 Lynette Davis
Lead Navigator
Graduate Student
University of New Hampshire
Tell us about your work/research. What kinds of things do you do?
I develop software for hydrographic applications. I'm currently working on a tool for real-time water column data visualization; the tool receives water column data from a multibeam sonar and quickly displays that data for operators aboard a vessel. The water column is everything between the surface of the water and the seafloor, and the display is similar to what one might see on a fish finder on a small boat. (But we get a lot more data at a much higher resolution from a multibeam sonar!) Visualizing the water column can be really useful for researchers in fields like hydrography, oceanography, and biology.
What sparked your initial interest in your career?
My interests in exploration, cartography, and sailing all collided when I discovered a graduate program in ocean mapping. Most of our planet is covered by oceans, and most of those oceans are unexplored and unmapped. Exploring those regions is always exciting!
Who influenced you or encouraged you the most?
A close friend really encouraged me to pursue a career in STEM and has been incredibly supportive throughout the journey.  
What element of your work/study do you think is the most fascinating?
Visiting underwater worlds that have never been seen before!
What other jobs led you to your current career?
I previously worked as a deckhand aboard sailing ships, which solidified my interest in sailing and ocean exploration.
What are your degrees and certifications?
Bachelor of Fine Arts in Art, University of Wisconsin-Madison, 2010 Master of Science in Computer Science, University of New Hampshire, 2022 Master of Science in Ocean Engineering - Ocean Mapping, University of New Hampshire, 2023 (Expected)
What are your hobbies?
I enjoy curling, biking, and befriending the local porcupines.
What advice would you give someone who wants to have a career like yours?
There are many different paths to get here! Everyone working in this field will have had a different journey, different perspectives, and different advice. Reach out to as many of those people as you can, learn from their experiences, then choose your own adventure.
How did you get involved with the Ocean Exploration Trust?
I first worked with Ocean Exploration Trust as a graduate research assistant with the Center for Coastal and Ocean Mapping at the University of New Hampshire. I'm happy to be back aboard Nautilus as a Mapper / Navigator.
Expeditions
Lynette participated in the following Ocean Exploration Trust expeditions: