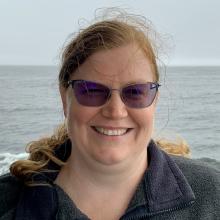 Lori Hetschel
Science Communication Fellow
High School Teacher
Cholla High School
Tell us about your work/research. What kinds of things do you do?
I teach Marine Biology, Biology, and Chemistry to high school students in Tucson, AZ. Teaching Marine Biology in the middle of a desert is complicated, as many students have never seen the ocean. We do not have the opportunity to travel to the ocean, or even to lakes, to practice data collection/observation, so hands-on labs require lots of attention and materials. I have worked hard to collect an assortment of animals/objects/videos to represent the ocean to my students. They leave the class having a deep respect and appreciation for the majestic oceans covering our Earth.
What sparked your initial interest in your career?
I was interested in Marine Biology for as long as I can remember. I grew up among scientists (my mother is a botanist, my father is an ornithologist, my uncles are mammologists and lepidopterists, and my sister is an entomologist/ecotoxicologist). It was not a question of what I wanted to be when I grew up. The question was which type of scientist I wanted to be. My first interactions with the ocean included tide-pooling with family on many weekends as a child. When I was a teenager, I learned to SCUBA dive, and we took family vacations to Florida and Mexico to go diving. I was hooked. I went to Oregon State University to learn more about our fantastic oceans, and I have been learning ever since. When we moved to Arizona for work, I was crushed to be leaving the ocean behind, but I am glad that I can share my knowledge and love with my students.
Who influenced you or encouraged you the most?
I think my best mentor is my grandma. At the age of 65, she lost her second husband after 6 years of intensive care. She decided that she was done mourning him. She had done so for so long. So she took up SCUBA diving. She joined a senior ladies team and within 10 years she had visited all the warm oceans. It was not until she lost her eyesight at the age of 85 that she had to retire from the water. She is my reminder that it is never too late to try something new and to grab life by the horns (while staying safe).
What element of your work/study do you think is the most fascinating?
The most fascinating thing about what I do is sharing the unknown. There is so much we have learned about the ocean and its inhabitants, but there is so much more to learn. I show my students the textbook at the beginning of the year (10 years old now) and say that half of what we know about the ocean was learned since this book was published. I then tell them that some of the things they will learn this year haven't been learned yet. New reports will come out as new things are found by scientists. That is what is so amazing about this job.
What other jobs led you to your current career?
As much as I have learned about the ocean, very little was actually through jobs. I graduated from college with a degree in Biology and an option in Marine Biology. While in college, I worked with a professor who studied whitefish in Alaska. My job was to care for the fish freezer and keep track of all the fish. I also did some research by analyzing the otoliths to determine if the fish had migrated to/from the ocean. After college, I worked for a few months as a microbiologist. Since then, I have been a mother and a teacher. This is my true calling. I live for the light that grows on my student's faces when they learn something new.
What are your degrees and certifications?
Bachelor of Science in Biology with an option in Marine Biology and a minor in Chemistry - Oregon State University 2006; Master of the Arts in Secondary Education - University of Phoenix 2011
What are your hobbies?
I love hiking and exploring new things (especially if I get to an ocean area). When traveling, I must visit the local aquarium or beach whenever possible (my husband says that is my day and then he gets to plan everything else). In my spare time, I enjoy writing fanfiction, baking, and watching ocean documentaries.
How did you get involved with Ocean Exploration Trust?
My sister first told me about the opportunity, as she knows I am enthused by all things ocean-related. I read the description of the program and I was hooked. This is the opportunity I have dreamed about for years. I am excited to finally be able to join this group and learn from the best.
What advice would you give someone who wants to have a career like yours?
Teaching is hard but worth all the effort. Don't give up, but find a coworker you can lean on. This is not a job that can be done solo. Never assume you know everything, for the students, will prove you don't. They are sponges for information, even if they don't know it yet.
Expeditions
Lori participated in the following Ocean Exploration Trust expeditions: