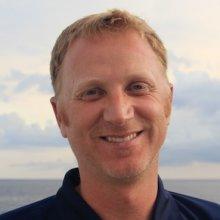 Josh Chernov
ROV Operations Manager
President
Ocean Dynamics Inc.
Tell us about your work/research. What kinds of things do you do?
Own and operate Ocean Dynamics Inc. (ODI) which is a marine surveying and environmental consulting company based on Vancouver Island, British Columbia. ODIs team of engineers have worked extensively offshore with a variety of deep water ROV platforms. Currently, I am the ROV Operations Manager for OET, leading ROV cruises and operations around the globe. ODI has seamlessly integrated into OET, maintaining ROVs Hercules, Little Herc, Argus and Atalanta. ODI has also taken the lead project management role in many projects for OET, E/V Nautilus and has been integral in the development of OET's Mobile ROV System.
What sparked your initial interest in your career?
My educational background is in marine biology. When taking these skills into the field I became more involved in underwater technology that assisted in my data collection needs. I became very interested in ROV technology and began using those types of tools for biologically related ocean data collection. From there my focus shifted towards ROV technology. I began networking within the ROV community and after many twists and turns, I started my own company and have been running Ocean Dynamics Inc since 2013.
Who influenced you or encouraged you the most?
It started with a professor I had during my undergrad at the University of Victoria. She told stories of her offshore research in some of the lectures. Those lectures and stories really pulled me in and sparked my interest.
What element of your work/study do you think is the most fascinating?
I think the technology and pushing to advance it has always been a driving force. Lately, I have become interested in project planning and development, looking more at the bigger picture and how technology and science drive each other and the platforms and people that support it.
What other jobs led you to your current career?
Everything I have worked on had led me to where I am now. Starting out as a marine biologist working on marine habitat mapping projects. Teaching myself about ROV and USBL technology and pushing myself into the ROV community. Working as one of the only ROV underwater loggers in the world...funny but true. Playing an operations management role, developing a commercial ROV operation in Canada and Malaysia. Working offshore with multiple science ROV platforms and research vessels. Taking on the ROV Operations Management role with OET and continuing to run Ocean Dynamics Inc. based on Vancouver Island.
What are your degrees and certifications?
Bachelor of Science in Biology and Marine Science
What are your hobbies?
Mountain Biking, playing with my kids/family and learning the Ukulele
How did you get involved with the Ocean Exploration Trust?
In 2013 a colleague asked me to join OET as an experienced offshore ROV pilot contractor. After doing that for two of OET's seasons, I was propositioned to take on a larger role with the Trust. 2016 was my first full season as the ROV Operations Manager and I have been part of the team ever since.
What advice would you give someone who wants to have a career like yours?
Find what your passionate about, learn as much as you can and use that passion to push yourself in the direction you want to go. Be open to working out of your comfort zone, while understanding where your limits are. You will learn more from your mistakes than from your accomplishments.
"I am excited to be on Nautilus because I love to explore!"
Expeditions
Josh participated in the following Ocean Exploration Trust expeditions: