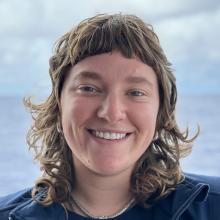 Isabella Monaco
She/Her, They/Them
Seafloor Mapping Intern
Undergraduate
University of Colorado at Boulder
Tell us about your work/research. What kinds of things do you do?
I am interested in an array of marine sciences topics. In previous projects, I have focused on specific anthropocentric activity and its impacts on marine ecosystems. I have taken a special interest in marine plastic debris. Considering I live in a landlocked state, I have focused primarily on riparian environments in my backyard. Some of my previous research has also focused on climate change's impact on snowpack and watershed throughout the Rocky Mountains. My senior thesis focused on creating international marine protected areas across the Salas y Gomez and Nazca Ridges in the Southeastern Pacific Ocean. Now that I have graduated from my university, I plan to work on the water as much as possible, in any capacity and on any open water resource.
What sparked your initial interest in your career?
During the COVID pandemic, while living at home and spending my days gardening, I was feeling a bit uninspired. As I was casually viewing Greta Thunberg's profile, a couple of clicks later I fell into a rabbit hole of people who live full-time on aboard sailboats or "cruisers". Something deep inside of me knew this is what I wanted to do, a spark was ignited. From there, I did a full switch on my college degree and dove into environmental sciences with a focus on atmospheric and oceanic sciences. I took a couple of oceanography and climatology classes and became quite fascinated with the winds and the waves. Now I enjoy being at the forefront of science that can help save our planet.
Who influenced you or encouraged you the most?
I am motivated by all my wonderful professors who have personally guided my interest in research and higher education in marine science. And of course, an ode to those teachers and leaders who have guided my path before college and impacted my character along the way. What started as inspiration for sailing the high seas, my future opportunities are rooted in understanding how to protect our precious water resources, see beyond our horizons, and look below the surface, in-depth at a water world teeming with life that plays a fundamental role in our land-dwelling ways. I am inspired by these characteristics of the ocean. Lastly, I am encouraged by my brilliant, endlessly supportive family. And all my other important people, for their guidance along this journey through our shared laughs, and connection via listening and teaching one another, it's been deeply influential to my being. 

What element of your work/study do you think is the most fascinating?
One of the most fascinating works I have had the opportunity to study was in my own backyard- Boulder Creek, Colorado. Where I was leading my own research project that required weekly samples across fixed sites in order to analyze plastic pollution abundance within and along the riparian environment. It was incredible to connect with local patrons of the creek, learn about field work, and develop my own research.
How did you get involved with the Ocean Exploration Trust?
I was doing a deep dive on the internet for post-graduate opportunities that intersected marine science, research, and vessel living. I came across this wonderful program and gave the SEIP application my best shot.
What other jobs led you to your current career?
I'm a strong believer that every opportunity and job before this has led me to the current point in my career: Sea Floor Mapping Intern. From working at yoga and climbing gyms which continue to inspire me to stay in the outdoors. To my internship with Earth Lab at CU Boulder, where I was able to learn new skills in earth data science to investigate snowpack and streamflow. All of my roles have compounded my interest in protecting our vital planet. Each job has opened new doors for me and helped me stay curious. I am motivated to work within my ecosystem and see my work benefit my community. 
What are your degrees and certifications?
Bachelor of Arts in Environmental Studies with a minor in Atmospheric and Oceanic Sciences -- University of Colorado at Boulder 2023
What are your hobbies?
I live for being in the outdoors, in all the wonderful capacities of my backyard. I've recently dove headfirst into rock climbing and during the snowy months, I spend my free time snowboarding. In the summer this translates to hiking, camping, and swimming in the Alpine. I also enjoy reading used books, drawing, yoga, shooting film, and commuting on a bike.
What advice would you give someone who wants to have a career like yours?
Take up space! Ask all the questions! Recognize every single somebody in front of you at one point stood where you stood. So with that, stay curious and be creative, even in the scientific realm, we should be innovative and artistic with our solutions and applications to environmental issues. Try to never be one thing or fit yourself into a box, instead be dynamic and universal. Whenever you're in a new space, try to recognize it as an opportunity of pure growth. Take a deep breath and absorb everything you can in each lesson of life. And then work to be able to translate your new knowledge to future scenarios. Lastly, give a hand to someone below you, there is always room for everyone to be successful. 
Expeditions
Isabella participated in the following Ocean Exploration Trust expeditions: