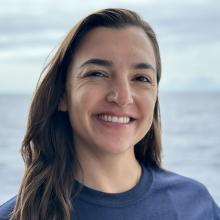 Gabriela Espino
Seafloor Mapping Intern
Graduate Student
University of Rhode Island
Tell us about your work/research. What kinds of things do you do?
I studied oceanography and meteorology at the U.S. Naval Academy as an undergraduate student. I focused my studies on climate change and had the opportunity to intern with the U.S. Navy Marine Mammal Program where I trained and cared for dolphins and sea lions. After I was commissioned I served in the U.S. Navy for 9 years, flying as a Naval Flight Officer (NFO) aboard the E-6B Mercury aircraft. My most recent position was working for the Commander of the Pacific Fleet, where I managed current operations for all maritime activities stretching from the coast of California to the Indian Ocean. I am currently enrolled in the University of Rhode Island online Master of Oceanography program.
What sparked your initial interest in your career?
I am an explorer at heart. Growing up by the ocean in Hawaii, I learned the ways of the ocean from teachings passed down by watermen. My desire to serve my country and push my own limits inspired me to apply and attend the U.S. Naval Academy. After commissioning, I had the privilege of flying for the U.S. Navy all across the country. I am now trading my wings for flippers to pursue a career as an oceanographer. My true passion lies in helping protect and understand the ocean, ensuring that future generations can continue to enjoy its incredible biodiversity and natural beauty.
Who influenced you or encouraged you the most?
My friends and family have been my primary source of motivation throughout my life. From my early educational journey to my career, I have always received their support and love. I've only been able to achieve what I have because of all the people in my life who believed in me.
What element of your work/study do you think is the most fascinating?
I have been fortunate to serve my country by flying on various missions aboard the E-6B Mercury. Seeing the sky and stars above the clouds from the cockpit opened my mind to how vast the universe really is. What's even more captivating is the realization that there is so much exploration to be done right here on our own planet!
How did you get involved with the Ocean Exploration Trust?
I learned about E/V Nautilus when I was applying to the University of Rhode Island online Master of Oceanography program. Dr. Robert Ballard is a professor of Oceanography at URI, along with multiple professors and students working and interning aboard the research vessel. He's been an inspiration for me for many years.
What other jobs led you to your current career?
I completed an internship with the U.S. Navy Marine Mammal Program, training and caring for dolphins and sea lions. Additionally, I have been involved in the Naval Academy Oceanography program, doing all things oceanography such as seafloor scanning, water sampling, and monitoring ocean currents.
What are your degrees and certifications?
Bachelor of Science in Oceanography and Meteorology -- United States Naval Academy 2014; Masters of Oceanography -- University of Rhode Island (2025); U.S. Naval Aviator
What are your hobbies?
I am a waterwoman at heart. I love to swim, surf and outrigger paddle. I also enjoy hiking and camping. I love traveling and learning about the history of the land and its people.
What advice would you give someone who wants to have a career like yours?
Embrace every opportunity in life. Participate in all the school programs and activities you can. Never pass up on an opportunity because you think "you cannot do it" or "you would never be chosen". The most important source of motivation in life is yourself!
 
Expeditions
Gabriela participated in the following Ocean Exploration Trust expeditions: