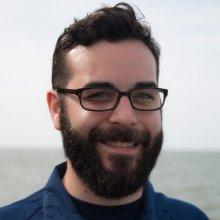 Dennis DJ Pevey
Science Communication Fellow
K-12 Science Facilitator
eStem Public Charter School
Tell us about your work / research. What kinds of things do you do?
I am the science curriculum developer and program director for eStem PCS, a district of charter schools in downtown Little Rock. The best part of my job is the variety. On any given day, you will probably find me working with our incredible teachers, developing STEM projects, blowing something up, or carting around bags of recyclables. 
What sparked your initial interest in your career?
From kindergarten to college, I have been fortunate enough to have been taught by some amazing educators. These men and women showed me how to find the wonder in the world around me and challenged me to make a difference in the world. Unfortunately, many students across the country do not have access to a great education. My goal is to make an impact in the lives of young people and inspire the next generation of inventors, tinkerers, and innovators.
Who influenced you or encouraged you the most?
My 3rd grade teacher, Mrs Bass was the first person to recognize a talent for music and drama and nurture it into one of my life's greatest passions. Through her influence and the influence of teachers after her, I found my way into education. I hope that one day, I can make a difference in one of my student's life in the same way as she did for me. 
What element of your work / study do you think is the most fascinating?
Its completely mind-boggling to think that I am a part of a team of people working as a single body to use robots to explore the bottom of the ocean. Working aboard the Nautilus is the most amazing experience I've ever had! 
What other jobs led you to your current career?
Prior to my work in curriculum, I was a 7th grade science teacher. In the classroom, I worked to incorporate sustainable engineering into all of my classroom projects. My students' work has been nationally-recognized to their creative ideas for solving real-world environmental challenges.
What are your degrees and certifications?
BA in Education- Centenary College of Louisiana 2010
What are your hobbies?
I love a good book...a tough puzzle...and a big cup of coffee.
What advice would you give to someone who wants to have a career like yours?
Never grow up! In order to get into the mind of a child, you have to be able to get on their level. Be inspired by the natural world. When you make a Lisa's jaw drop in wonder, their minds are open and ready to learn. Finally, be passionate. When you love what you do, you can't help but be successfull and inspire others around you.
How did you get involved in the Nautilus Exploration Program? How did you get on the ship?
I joined the Corps of Exploration in 2015 when I served as a Science Communication Fellow and participated on the GISR (Gulf Intefrated Spill Response) cruise investigating methane seeps in the Gulf of Mexico. This year, I'm returning to the Nautilus as a Lead SCF. 
"Exploration of the unknown is a core tenet of science. Sailing aboard the Nautilus will offer me and my students the chance to connect with a rich heritage of scientific explorers such as Charles Darwin, Alfred Wegener, and others that have contributed so much to the body of science." 
Expeditions
Dennis (DJ) participated in the following Ocean Exploration Trust expeditions: