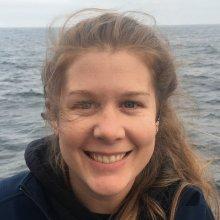 Anne Hartwell
Science/Data Team
Graduate Student
University of New Hampshire
Tell us about your work/research. What kinds of things do you do?
My research focuses on exploring and characterizing deep-sea habitats. I am working to identify relationships between environmental variables, such as the shape of the seafloor and water temperatures, and the organisms that live in deep-sea. The information I learn about those relationships will go into tools used to predict the presence of organisms in areas of the seafloor for which only environmental data are available. Being able to predict the presence of life in the deep-sea, without making direct observations, allows for the opportunity to mitigate the impact of exploration, presents the opportunity to explore more in-depth, and enables the protection of vulnerable areas.
What sparked your initial interest in your career?
I was drawn to a career in ocean science during an Oceanography class I took during the 2nd semester of freshman year. I was captivated by the way the late Dr. Karen Von Damm shared her experiences with deep-sea exploration so enthusiastically and conveyed the importance of learning the unknown with certainty. I was fortunate to find my way back to deep-sea research when I dove in a submersible in 2014 and became completely aww-inspired by the vibrant macrocommunity. It took me almost 2 years to realize that that community, in its unique geologic setting, had yet to be characterized; I immediately jumped on board.
Who influenced you or encouraged you the most?
Dr. Karen Von Damm was a major influence on my entrance into the field through her enthusiasm and love for the research. A previous boss has been encouraging me to pursue my research interests since I first sought permission from him to review the videos from the submersible dives because I was curious about the organisms. A close friend from graduate school has been a cheerleader since we started our master's in 2010.
What element of your work/study do you think is the most fascinating?
The most fascinating part of my work is looking at the deep-sea organisms. Beyond the intriguing relationships, they have their environments, they are incredibly fun to look at (albeit often hard to identify!).
What other jobs led you to your current career?
Between earning my Master's and starting my PhD, I was fortunate to remain in marine science as a research associate and technician. As a research associate in a geochemistry lab and had ample opportunities with analyzing samples, working with students, working and prepping for the field, and preparing reports. When my boss relocated, I remained at that university as a visiting scholar and split my time teaching geology and oceanography at a community college and working part-time as a remote research technician. Before returning to graduate school, I spent a few months continuing work from the first research associate I had held. Separate from any formal position, I participate in science communication by contributing to an ocean science blog.
What are your degrees and certifications?
Bachelor of Science in Geology- University of New Hampshire (2010); Masters of Science in Oceanography- University of Rhode Island (2013)
What are your hobbies?
I like to explore the areas around me, cook (especially grill), play the flute to relax, and interact with dogs and cats.
How did you get involved with the Nautilus Exploration Program?
I am attending to collect science samples for Geoff Wheat via Chad King.
What advice would you give someone who wants to have a career like yours?
Approach the field of oceanography as the interdisciplinary beast that it is and do not be shied away when it gets overwhelming. Do not be afraid to voice your desire to help, take lead, and ask questions.