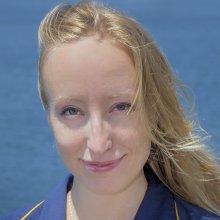 Amber Giacone
Video Engineer
Producer and Videographer
AG Productions
Tell us about your work/research. What kinds of things do you do?
For over a decade I have worked as a filmmaker and videographer for projects ranging from features films and documentaries to commercials and live broadcasts. I love the variety and the ability to tell a story that reaches many. I aim to use this platform to create more educational and outreach films about our oceans.
What sparked your initial interest in your career?
From a very young age, I have held an interest in photography and cameras. I started taking nature photos with my dad around 8 years old and over time expanded into making films. After a period, I realized I wanted to focus my storytelling on the ocean and that to best do that I needed to further my education. This prompted my Bachelor's studies in oceanography.
Who influenced you or encouraged you the most?
My family and friends have been some of my biggest champions and inspirations.
What element of your work/study do you think is the most fascinating?
Having access to emerging technologies and finding new and innovative uses for them as a tool in filmmaking and education is one of the most fascinating things I get to do.
What other jobs led you to your current career?
Beyond working as a filmmaker, I have also worked as a welder and a machinist making custom camera components. Having a technical mindset has helped me in my career as a videographer, giving me a deeper understanding of a project's requirements.
What are your degrees and certifications?
AAS in Film and Video Communications- Seattle Central College 2004; BS in Ocean Technology and Oceanography- University of Washington 2016
What are your hobbies?
Keeping active is a common thread amongst my hobbies. I love skiing, riding my bicycle, scuba diving, and traveling.
What advice would you give to someone who wants to have a career like yours?
The best advice I can give is to keep at it, always be learning, and to surround yourself with inspiring people.
How did you get involved with the Nautilus Exploration Program? How did you get on the ship?
Three years ago, while I was still an oceanography student, I came aboard the Nautilus as a video engineering intern. I have since had the fortune of returning as a video engineer.