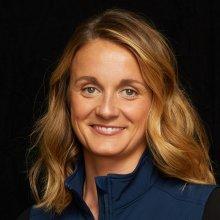 Allison Fundis
She/Her
Expedition Leader
Chief Operating Officer
Ocean Exploration Trust
Allison Fundis is the Chief Operating Officer for the Ocean Exploration Trust where she leads the development and management of the organization's ocean exploration and outreach activities and teams. She pulls from diverse background in scientific, education, and extensive sea-going experience to engage the science community, students, and the public in telepresence-enabled expeditions aboard the Trust's exploration vessel Nautilus. Since 2006, she has led or participated in 50+ expeditions utilizing a variety of deep-sea technologies and submersibles in the Eastern, North, and South Pacific Ocean, Gulf of Mexico, Gulf of California, Caribbean Sea, and the Mediterranean Sea.
Before joining the Ocean Exploration Trust in 2013, Allison worked with the National Science Foundation's Ocean Observatories Initiative at the University of Washington. In her role there, she participated in the planning and installation of the US's largest cabled seafloor observatory in addition to developing resources and programs for students that utilize the observatory's real-time data. Allison is a former high school chemistry and biology teacher and remains passionate about making authentic opportunities in STEM available to students, educators, and the public through the Ocean Exploration Trust. 
Allison holds a MS degree in Marine Geology from the University of Florida and a BA in Human Ecology from the College of the Atlantic. Her geological studies focused on understanding the controls on eruption dynamics in submarine volcanic systems. In 2019, Allison was recognized as an innovation and technology delegate for the Academy of Achievement and as an IF/THEN ambassador by the American Association for the Advancement of Science. She is a 2020 Fellow National of the Explorers Club and in 2021 was named an Emerging Explorer by the National Geographic Society.
Expeditions
Allison participated in the following Ocean Exploration Trust expeditions:
Selected Publications
2022
(2022).
Mapping and Exploration of Deep Seamounts around Johnston Atoll: 2021 Expeditions aboard E/V Nautilus.
Deep-Sea Life
19: 11-12.