Next on Nautilus:
Exploring Ancient Volcanoes on Luʻuaeaahikiikapapakū in Papahānaumokuākea Marine National Monument
Monday, November 22, 2021 — 9:30 am Hawaii • 11:30 am Pacific • 2:30 pm Eastern
ROV dives return again with the first-ever seafloor exploration of the Wentworth Seamount chain in Papahānaumokuākea Marine National Monument! This expedition is the second of a series of expeditions collaborating with the PMNM team to better understand the largest conservation area in the United States. Learn about the biological importance and cultural significance of coral communities across these ancient seamounts from Co-Lead Scientist Dr. Christopher Kelley and Office of Hawaiian Affairs Native Hawaiian Cultural Working Group member Kalamaʻehu Holden Takahashi. Dives will also investigate the tiny microbes of exceptional diversity found across the rocky seafloor landscape with Dr. Beth Orcutt. Bring your questions for the team!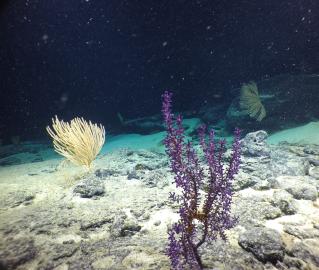 E/V Nautilus Expedition
Returning to Papahānaumokuākea Marine National Monument (PMNM) after an expedition in 2018, our team will be conducting ROV surveys on a chain of seamounts, and document whether these underwater mountains support vibrant coral and sponge communities like others in the region.