Ocean Exploration in the Lakes: 2021 Expedition Update
Wednesday, June 16, 2021 — 11:00 am Hawaii • 2:00 pm Pacific • 5:00 pm Eastern
Did you know 95% of the Great Lakes are still unmapped in modern high resolution? Returning to the Great Lakes after a 2019 expedition, OET has teamed up with Thunder Bay National Marine Sanctuary in northern Michigan for a lakebed mapping expedition using the research ASV BEN from the Center for Coastal and Ocean Mapping at the University of New Hampshire (CCOM UNH). Join TBNMS Research Coordinator Stephanie Gandulla, ASV Research Lead Val Schmidt, and Mapping Coordinator Erin Heffron to discuss how this 3-week deployment in the lakes helps advance exploration, develop new technology, and make important discoveries essential to preserving resources in the only freshwater national marine sanctuary in the United States. Lakebed mapping will cover areas never scientifically surveyed before and determine areas of interest for future ROV and scientific scuba dives!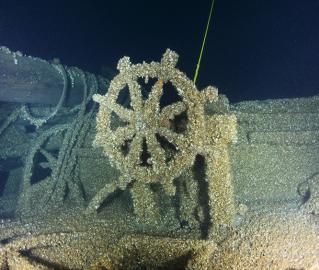 Mobile System Expedition
Continuing from our successful collaborative survey of 153 square kilometers of sanctuary lakebed in 2019, the 2021 exploration project will explore priority areas of the 4,300 square mile Thunder Bay National Marine Sanctuary (TBNMS) with both multibeam mapping and ROV exploration. Working onshore and offshore of Alpena, Michigan, we acknowledge the traditional and contemporary homelands of the people of the Council of Three Fires, the Ojibwe, Potawatomi, and Odawa.