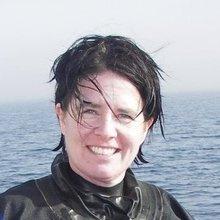 Stephanie Gandulla
Co-Lead Scientist
Maritime Archaeologist and Research Coordinator
Thunder Bay National Marine Sanctuary
Tell us about your work/research. What kinds of things do you do?
Our team works to preserve the rich history of the Great Lakes for this and future generations. The best part of my job is the variety of ways we make this happen! One day I may be coordinating a team to deploy remote sensing technologies to search for shipwrecks, and the next day diving and documenting shipwrecks. I also enjoy spending time sharing the fascinating stories of America's maritime history with audiences of all ages and inspiring them to protect our special places underwater.  
What sparked your initial interest in your career?
When I learned of the exciting blend of history and science, I knew maritime archaeology was for me. With my background in the humanities and a love of the water, every day under the water (or in the museum or the archives) is a blend of discovery, technology, and human interaction. 
Who influenced you or encouraged you the most?
I learned from my mom that you can learn something from nearly every situation, and every person you encounter. That wisdom has inspired me to do just that!
What element of your work/study do you think is the most fascinating?
The most fascinating project I was most recently involved in was the 2017 discoveries of the deep shipwrecks OHIO (1894) and CHOCTAW (1915) in northern Lake Huron. Learn more about that expedition here: https://oceanexplorer.noaa.gov/explorations/17thunderbay/summaries/final/final.html
What other jobs led you to your current career?
With more than a little wanderlust in my veins, I have held a variety of jobs, in a variety of places. No matter how different from my job as a maritime archaeologist, each one has taught me skills that I still use today. Never underestimate the value of ANY work... you never know where it will take you!
What are your degrees and certifications?
Bachelor of Arts in English Literature from Montana Statue University and a Master of Arts in Maritime Studies from East Carolina University. I also am a certified scuba diving instructor. 
What are your hobbies?
I love to travel and will never say "no" to going somewhere new. I also love exploring the woods with my dog Kate and sailing with my husband Nick. 
How did you get involved with the TBNMS project with OET?
TBNMS hosted Dr. Ballard's team in the first years of sanctuary designation, and we're thrilled to have the best in the world back again!
What advice would you give someone who wants to have a career like yours?
Talk to people! If you're interested in any field, do some research and find a way to talk to the very people doing what you want to do. Ask them questions, get involved, and volunteer. In other words, dive right in!