Blog:
Navigating the Deep Sea with Elias Adediran, a Seafloor Mapper and Navigator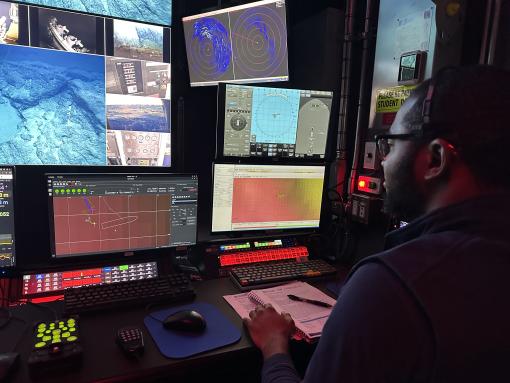 Madison Dapcevich/Ocean Exploration Trust
Written by Navigator Elias Adediran and Science Communication Fellow Stephanie Wienger
Meet Elias Adediran, a dedicated surveyor from Nigeria, onboard EV Nautilus as a Seafloor Mapper and Navigator. Elias' passion for geomatics, which is the presentation of geographic data, can be seen throughout his professional journey. 
Elias holds a bachelor of science in surveying and geoinformatics from Yaba College of Technology at the University of Lagos. In his home country of Nigeria, he worked as a hydrographic surveyor and data processor at an offshore survey company. 
He is continuing his education at the Coastal and Ocean Mapping and National Oceanic and Atmospheric Administration Joint Center at the University of New Hampshire. Elias will soon earn his Master's degree in ocean engineering, focusing on ocean mapping. 
Science Communication Fellow Stephanie sailed with Elias during NA153, a 27-day exploration of Johnston Atoll exploring the biology and geology of this remote region. To learn more about Elias' experience, here's what he had to say.
What are your interests in the world of exploration? What are you studying/working on? 
From a young age, I had always been attracted to the ocean and puzzled by the mysteries that lay beneath the waves of this vast blue. To date, the seafloor is the least-explored part of our planet. 
It might surprise you that even the surfaces of Mars, Venus, and the Earth's moon have been mapped at a higher spatial resolution than the seafloor. With about a quarter of the ocean mapped to high resolution and five percent of it explored, I am excited about the prospects of contributing to the complete mapping and exploration of the global oceans as we uncover the secrets of this vital source of sustenance, transport, commerce, growth, and inspiration for our planet. While I have a passion for mapping in general, there's a unique thrill in mapping uncharted territories, that no one has explored before.
Can you describe your area of research and how that contributes to a greater understanding of ocean exploration"
My research focuses on developing machine learning techniques to estimate and characterize the uncertainty in interpolated bathymetry. With about 75% of the world's oceans still unmapped, interpolation is frequently required to create a model of the seafloor from sparse bathymetric datasets.
However, the widespread use of interpolation-based digital bathymetric models generally lacks accompanying estimates of model-inherent uncertainty. This is a major issue, as the uncertainty associated with bathymetry is important for numerous applications, including safer navigation, hazard mitigation for coastal resilience, preservation of marine habitats and heritage, and a deeper understanding of natural resources for sustainable ocean economies. 
By producing more accurate and reliable estimates of uncertainty from interpolated datasets, my research has the potential to significantly impact various fields. It could benefit academic research, and commercial activities, and even have lifesaving implications for navigational safety and resilient coast-building.
What do you hope to accomplish as you progress in your career? 
My goal is to attain a Ph.D. in Ocean Engineering, become a renowned scholar, develop innovative approaches and technologies, and make valuable contributions as we continue to expand the frontiers of knowledge in ocean mapping, work towards complete mapping of the global ocean, and advance our understanding of deep blue for sustainable use and management.
What led you to your current position on Nautilus? 
Before embarking on my graduate studies, I was working in the oil and gas industry back in Nigeria. The desire to blend my industry experience with scientific exploration and contribute to deep-sea discovery led me to Nautilus. 
Fortunately, my center, the Center for Coastal and Ocean Mapping, is part of the NOAA Ocean Exploration Cooperative Institute (OECI) consortium—an alliance that includes the Ocean Exploration Trust (OET). This synergy gives many of our researchers and students the opportunity to join expeditions aboard Nautilus. 
I'm indebted to the OET Mapping Operations Manager for facilitating this journey. The exposure I've gained on this expedition exploring deep-sea biodiversity and geological formation on ancient seamounts around Johnston Atoll has not only met but exceeded my expectations. I eagerly anticipate more opportunities like this as we continue to shape the exciting future of ocean exploration.
Why is mapping vital to our understanding of the planet's marine environments?
Mapping serves as the bedrock of exploration and sustainable development—an undeniable truth. While it might sound like a cliché, this understanding takes on a new dimension when you witness firsthand the role of multibeam bathymetry, backscatter, and sub-bottom profiles in selecting and planning dive sites for ROVs to uncover the marvels of deep-sea biology and geological formations.
What would you like people to know about your role as a navigator and seafloor mapper aboard Nautilus? 
My primary responsibility as a Navigator is to ensure Nautilus and its two-body ROVs - Hercules and Atalanta - are in the correct position for and during scientific operations. This involves using cutting-edge surface and underwater positioning sensors, sonars, and navigation software to achieve science goals safely and efficiently. Additionally, I act as a liaison between ROV pilots, the science team in the control van, and the crew on the bridge, necessitating constant spatial and logistical awareness to stay ahead of operational and scientific objectives.
I'm also involved in dive planning and help to ensure that the ROVs are safely launched into the ocean. I closely monitor sea conditions while coordinating with ROV pilots, scientists, and crew to chart the vessel's movements as it explores and recovers ROVs from the seafloor. Throughout dives, I ensure that ROVs are tracked and are on the planned routes, and document observation locations and sampling areas, while providing regular updates on navigation screens, including ROV depth, distance from seafloor landmarks, and other vital ship information.
When we're not exploring, we're mapping for exploration or filling the gaps, this is when I don my mapper's hat. As a mapping watch stander, my task is to operate and monitor navigation software, positioning systems, and acoustic sonars ensuring they function optimally. I assist in preparing survey lines and efficiently acquire high-quality multibeam and sub-bottom sonar data and process the multibeam data to generate essential dive/charting products. I also acquire and process sound speed data to support mapping and navigation. Lastly, I maintain a record of navigation and mapping equipment status, addressing issues, and ensuring maintenance during each watch.
Undoubtedly, this work thrives on collaboration, supported by an adept navigation and mapping team as well as the collective dedication of everyone onboard. Being a member of this esteemed community is an honor and I cherish the opportunity to play a meaningful role in this significant scientific endeavor.
Notes from Stephanie
Elias's role on the ship is crucial to the operation and success of our research. His inquisitive nature and dedication to his work make him an excellent teammate. When on-watch as a navigator, he will often explain to viewers the type of data being viewed and how it is used to ensure dives are smooth and safe.  His curiosity for learning extends far beyond mapping, with him often asking to participate in other tasks such as educational outreach and specimen processing. He is an excellent addition to the NA 153 team and it's a pleasure to work alongside him! 
E/V Nautilus Expedition
In August 2023, we will return to the Central Pacific for 27 days of exploration within the Johnston Atoll Unit of the Pacific Remote Islands Marine National Monument (PRIMNM), starting and ending in Honolulu.