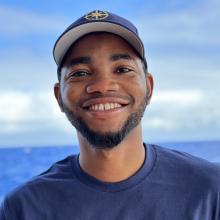 Elias Adediran
He/Him
Navigator
Graduate Student
Center of Coastal and Ocean Mapping, University of New Hampshire
Tell us about your work/research. What kinds of things do you do?
My research focuses on developing machine learning techniques to estimate and characterize the uncertainty in interpolated bathymetric datasets. The ultimate goal is to determine the optimal fit-for-purpose and situation-specific interpolator for filling bathymetric gaps and produce realistic estimates of uncertainty from interpolated datasets in operational settings. 
With about 75% of the world's oceans still unmapped, interpolation is frequently required to create a model of the seafloor from sparse bathymetric datasets. However, the widespread use of interpolation-based digital bathymetric models generally lacks accompanying estimates of model-inherent uncertainty. This is a major issue, as the uncertainty associated with bathymetry is important for numerous applications, including safer navigation, hazard mitigation for coastal resilience, preservation of marine habitats and heritage, and a deeper understanding of natural resources for sustainable ocean economies. 
By producing more accurate and reliable estimates of uncertainty from interpolated datasets, my research has the potential to significantly impact various fields. It could benefit academic research, and commercial activities, and even have lifesaving implications for navigational safety. 
Furthermore, I take pleasure in actively engaging in and gaining knowledge about the cutting-edge ocean mapping techniques and technologies being developed at the Center for Coastal and Ocean Mapping. Being part of this dynamic community of pioneering researchers who are constantly pushing the limits of ocean mapping technologies is a privilege and I feel fortunate to be at this epicenter of ocean mapping innovations.
What sparked your initial interest in your career?
From a young age, I have been fascinated by the power of mapping to unlock development opportunities and manage resources effectively. Growing up in a family that valued geographic knowledge and spatial awareness, I knew that Surveying and Geoinformatics was the perfect field for me. What drew me to mapping was its multidimensional and multifaceted nature. Despite my favorite secondary school teacher's encouragement to pursue a career in Medical Sciences, I knew that mapping was where my heart lay. I enrolled in Surveying and Geoinformatics at Yaba College of Technology before pursuing a degree at the University of Lagos, Nigeria. As I delved deeper into advanced mapping techniques and technologies, I couldn't help but be drawn to the ocean. Growing up in Lagos, a coastal city, I had always been captivated by the mysteries that lay beneath the waves of the vast blue ocean. I realized that ocean mapping was the perfect way to combine my passion for mapping with my love for the ocean, and the prospect of exploring the ocean's complex and dynamic systems through ocean mapping was irresistible. 
As I learned more about ocean mapping, I was stunned by the fact that the seafloor is the least explored part of our planet. Even the surfaces of Mars, Venus, and the Earth's moon are mapped at a higher spatial resolution than the seafloor, which is hard to believe. This realization cemented my decision to pursue a career in ocean mapping as I saw it as a unique opportunity to contribute to the mapping of the ocean's unexplored depths and uncover its mysteries. Since then, I have never looked back. 
Ocean mapping and exploration have been an incredible adventure for me. I have had the opportunity to work on projects that are advancing our understanding of the ocean's complexities, and I feel privileged to be part of a field that is making a positive impact on the world. However, there is still so much to learn and discover, and I am excited to continue pushing the boundaries of what we know about the ocean. The ocean is vast and mysterious, and I believe that ocean mapping has the potential to reveal new insights into the workings of our planet.
Who influenced you or encouraged you the most?
My father, a retired Town Planner of the Lagos State Government in Nigeria, played a significant role in inspiring me to pursue a career in Surveying and Geoinformatics, and his unwavering support has been a source of motivation throughout my journey. I am also immensely grateful to my teachers, professors, mentors, and colleagues who have played a significant role in shaping my professional development by imparting valuable knowledge, providing encouragement, and offering guidance. Their contributions have been invaluable to my growth and success, and I will forever appreciate their impact on my career. Last but not least, I owe a debt of gratitude to my beloved wife, whose untainted love, care, and support have been the cornerstone of my achievements. A virtuous wife is truly a treasure beyond measure, and I feel blessed to have her by my side.
What element of your work/study do you think is the most fascinating?
One of the most fascinating aspects of my work is the sense of adventure it brings. Having the opportunity to explore the unknown, travel to different parts of the world, enjoy the aesthetics of nature, engage with people from diverse cultures, and expand my professional network always brings something new and exciting. Most significantly, I am privileged to use cutting-edge technologies and state-of-the-art equipment to map the global oceans, unlocking the secrets of this vital source of sustenance, transport, commerce, growth, and inspiration for our planet. By doing so, I can contribute to improving our understanding of the ocean realm and its crucial role in our lives. I am grateful for this privilege and excited about the possibilities it holds for the future.
What other jobs led you to your current career?
Throughout my career, I've pursued my passion for mapping and leveraged my extensive background in Geomatics to contribute to a wide range of survey projects aimed at promoting sustainable development. I have worked on diverse survey projects, including Cadastral, Topographical, Route, Re-establishment, Underground, Bathymetric, and Aerial surveys, utilizing both traditional and modern survey instruments and technologies. Additionally, I've been involved in numerous Geographic Information Systems and Remote Sensing projects, which have included Satellite Image Processing, Land use/Land cover classification, Flood modeling, Map vectorization and update, and Spatial analysis. 
My core Geomatics background, combined with practical experience and proficiency in various survey instruments and software, has prepared me exceptionally well for Ocean Mapping. In recent years, I've specialized in Ocean Mapping and Hydrography, participating in several offshore survey projects ranging from rig move and barge positioning, subsea positioning of offshore structures, remotely operated vehicle tracking, dive support, field development, geophysical and geotechnical surveys, offshore construction support, as-built surveys, debris clearance surveys to dimensional control surveys in the Gulf of Guinea. I find it exhilarating to combine my industry experience with research, science, and exploration, and look forward to continuing to contribute to this exciting field. 
 
What are your degrees and certifications?
National Diploma in Surveying and Geoinformatics (Distinction), School of Environmental Studies, Yaba College of Technology, Nigeria (2013). 
Bachelor of Science in Surveying and Geoinformatics (First Class), Faculty of Engineering, University of Lagos, Nigeria (2018).
FIG/IHO/ICA Category-A Hydrographic Surveyor, Center for Coastal and Ocean Mapping & National Oceanic and Atmospheric Administration – University of New Hampshire Joint Hydrographic Center, USA (2022). 
 
What are your hobbies?
During my leisure hours, I like various activities, including watching sports, committing the Qur'an to memory in its diverse styles and dialects, as well as reading and reciting Arabic poetry.
How did you get involved with the Ocean Exploration Trust?
With the Ocean Exploration Trust Mapping Operations Manager's assistance, I joined the Ocean Exploration Trust through the Center of Coastal and Ocean Mapping/National Oceanic and Atmospheric Administration – the University of New Hampshire Joint Hydrographic Center. I am thankful for this opportunity and eager to maximize my time onboard.
What advice would you give someone who wants to have a career like yours?
If you are interested in a career in ocean mapping, I would encourage you to learn the basics right and develop your programming skills. Passion is a vital ingredient for success, so pursue your goals with unbridled enthusiasm and determination. Remember, the only limit to what you can achieve is the one you set for yourself. However, setting SMART goals - Specific, Measurable, Achievable, Realistic, and Time-bound - is equally important. 
Academic excellence is critical to success, so invest yourself fully in your studies and work hard to develop your skills. To stay motivated and inspired, surround yourself with like-minded individuals who share your interests and can encourage and support you along the way. Don't be afraid to speak up about your desire to help, volunteer, or take on leadership roles, as this can help you gain valuable experience and open up new opportunities. 
Finally, persistence is key to unlocking success in any field, so keep pushing forward even in the face of setbacks or obstacles. With a combination of passion, hard work, and perseverance, you can achieve your dream of becoming an accomplished ocean mapper. 
Expeditions
Elias participated in the following Ocean Exploration Trust expeditions: