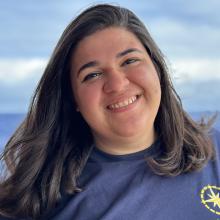 Stephanie Weinger
Science Communication Fellow
Children's Natural Science Illustrator
Freelance
Tell us about your work/research. What kinds of things do you do?
I am a Children's Natural Illustrator whose work depicts nature, exploration, and wonder themes. My passion for science, learning, and wildlife inspires me to create naturalistic illustrations that promote wildlife education for children. I believe that the key to wildlife conservation is curiosity and learning. I work with museums, authors, creative directors, and wildlife organizations to create educational images. From posters to signs to exhibit displays to books, my job is to find a way to communicate scientific information visually.
What sparked your initial interest in your career?
Growing up, I fell in love with two things, art, and science. I could always be found either drawing or exploring the woods in my backyard. When it was time to go off to college, I decided to pursue a career as an illustrator. I eventually stumbled upon Natural Science Illustration and knew it was the perfect way to combine my passions. During college, I focused on building a portfolio drawing animals and developing my method of visual science communications. As I continue my career, I want to find ways to make scientific information more accessible through visual storytelling.
Who influenced you or encouraged you the most?
So many inspirational people in this world are pursuing their passions no matter the cost. It's hard to choose one person, but anyone who is working to help educate and inspire others to love nature is who I look up to.
What element of your work/study do you think is the most fascinating?
The most fascinating element of my work is all the new information I learn. I get presented with new facts and theories about nature, and then it is my job to figure out how to tell a story with that information. This involves a lot of research and creative thinking.
What other jobs led you to your current career?
I love hearing about people's career journeys; being that I am just developing my career, listening to other's stories and experiences has taught me to be open-minded. Working as a freelancer, many kinds of opportunities can come your way. When I was a junior in college, I took an internship working with a company that created interactive displays. They assigned me to a project with a natural science museum where I was tasked to research and develop illustrations for a natural cycle exhibit. In my senior year, I interned with a company that creates children's activity books for wildlife refugees. That is where I discovered I love creating illustrations for children. Recently I have been creating illustrations for museums and children's books. I also lead workshops about nature drawing and create activity pages for kids to learn about animals.
What are your degrees and certifications?
Bachelor of Fine Arts in Illustration - Moore College of Art and Design 2020
What are your hobbies?
I love to hike, and I have recently gotten into bird watching. I love to travel and visit America's National Parks. On rainy days I love to curl up on my couch with my cat Akeya and watch a good movie.
What advice would you give someone who wants to have a career like yours?
Natural Science Illustration is all about watching and listening to the world around you. Pay attention to how creatures interact with their surroundings, how the wind blows through the trees, and how the waves stir the water's surface. Your illustrations don't have to be hyper-realistic, but they have to be accurate. With the correct accuracy, you can stylize your illustrations to best tell the story you are trying to convey. Be open to opportunities, don't limit yourself to just one subject or audience. And lastly, network, network, network! Meet new people that work in different fields, scientists, artists, publishers, everyone! Don't be afraid to reach out to people to keep out your own opportunities!
How did you get involved with the Ocean Exploration Trust?
I was introduced to Nautilus live by a friend who was aboard one of the expeditions. I began watching all the highlight reels on YouTube and tried to catch as many live streams as possible. In 2022 I built up the courage and confidence in my abilities as a communicator to apply for the Science Communications Fellowship.
Expeditions
Stephanie participated in the following Ocean Exploration Trust expeditions: