Blog:
Returning to Kingman and Palmyra with New Technology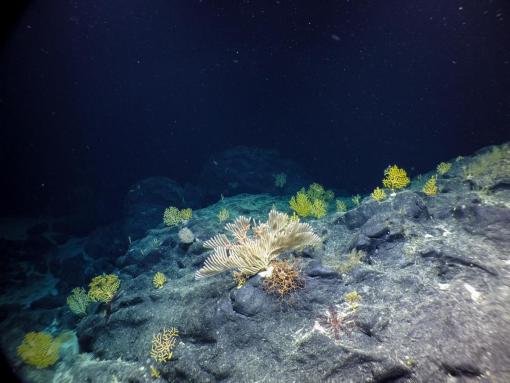 Ocean Exploration Trust
The Ocean Exploration Trust's 2023 Expedition Season has officially begun and our first ROV dive cruise is already underway! Join us as we return to Kingman Reef and Palmyra Atoll in the Pacific Remote Islands Marine National Monument (PRIMNM) for the third year to study these pristine marine ecosystems. Nautilus first explored this region of the Central Pacific during a 2019 expedition and returned in 2022, recording amazing videos of dumbo octopus, deep sea coral habitats, and even a first-time sighting of sea spiders mating.
Credit
Ocean Exploration Trust
Through two previous Nautilus expeditions, we've been working to increase our baseline knowledge of the deep-water habitats and seafloor formations of this remote region larger than the state of New Mexico. This year, we'll focus north of the currently protected area to expand global knowledge on the marine and cultural resources of the region, including patterns of species distributions and geological history.
"We're excited to venture into some of the most remote and pristine ecosystems in the Pacific Ocean around Kingman Reef and Palmyra Atoll to investigate these high-priority sites in the expansion areas of the Pacific Remote Islands Marine National Monument," says Expedition Leader and Director of the Inner Space Center at the University of Rhode Island Graduate School of Oceanography Dr. Dwight Coleman. "While mapping and characterizing deep-sea resources, we'll also use novel technologies alongside ROV Hercules for the first time, including the state-of-the-art Raman Spectrometer."
PRIMNM was established in 2009 and later expanded in 2014, encompassing seven islands and atolls as well as numerous seamounts, guyots, banks, and ridges across its five units. PRIMNM's Kingman Reef and Palmyra Atoll Unit protects near-shore and coral reef ecosystems and is critical for connecting shallow and deep water systems like seamounts, ridges, and canyons.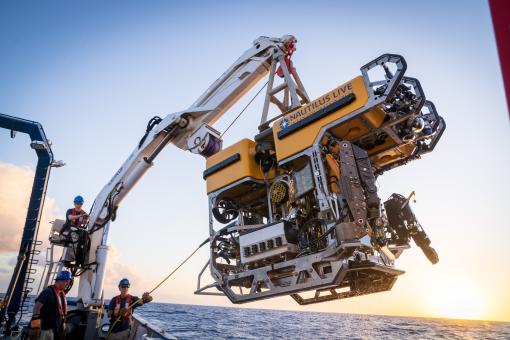 Credit
Ocean Exploration Trust
New to this year's exploration, in collaboration with NOAA Ocean Exploration and the Bureau of Ocean Energy Management, we will integrate the SETI Institute and Impossible Sensing's deep-sea Raman Spectrometer (aka the Laser Divebot) into ROV operations, which allows for expanded ocean exploration. Through laser scanning, this sensor collects high-fidelity chemical composition data on materials, including rocks, sediments, and biological samples. Being deployed for the first time from a mobile ROV, this technology aims to advance in-situ sensing and potentially reduce the need for collecting as many physical samples in the future. Analyzing rock samples helps researchers understand the complex geological history of the submerged ancient volcanoes, part of the larger Line Islands.
"The mysteries of the deep sea have captivated humanity for centuries, and our Laser Divebot's mission is about to unlock a world of secrets hidden beneath the waves as we visit never-before-seen seamounts and seafloor habitats," says Dr. Pablo Sobron, Founder of Impossible Sensing. "By combining cutting-edge optical sensing and at-the-edge computing technologies, we've created a novel approach to study the ocean seafloor that is not only cost-effective but also non-invasive."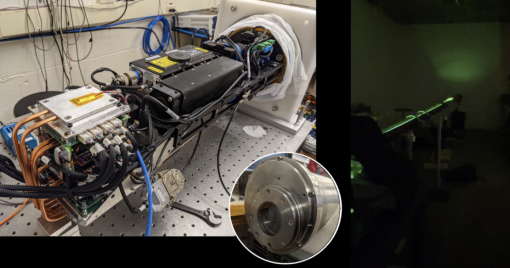 Credit
Ocean Exploration Trust
OET aims to provide a rich foundation of publicly-accessible data to enable follow-on exploration, research, and management activities. To this end, data and samples collected on E/V Nautilus expeditions are submitted to publicly-available repositories within 60 days of the end of an expedition. This is especially as this expedition area is currently proposed as a national marine sanctuary, a process seeking public input.
"These explorations help us all understand the amazing resources protected by the PRIMNM and help inform conservation needs in the area," says John Klavitter, U.S. Fish and Wildlife Service Monument Superintendent. "The research, permitted through the U.S. Fish and Wildlife Service's National Wildlife Refuge System after consulting with the NOAA's Marine Fisheries Service, also showcases the types of inter-governmental and private partnership that are critical to conservation of these vast and remote areas. We can't wait to see what they find next!"
As always the case with OET expeditions, community outreach is a key part of this cruise's goals. We aim to create a diverse and ocean-literate society through STEAM education and public outreach, specifically focusing on engaging historically marginalized groups. Our mission will advance scientific knowledge, inform future exploration efforts, and engage a new generation of curious minds eager to learn more about our fascinating underwater world.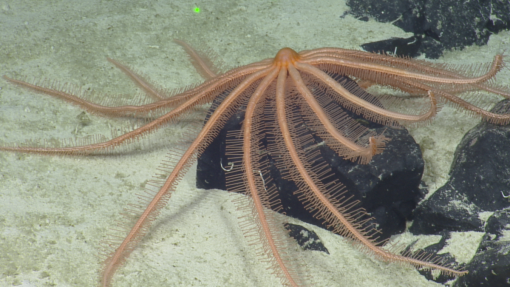 Credit
Ocean Exploration Trust
Data gathered from this journey will support the National Strategy for Ocean Mapping, Exploring, and Characterizing the United States Exclusive Economic Zone by conducting high-resolution, in situ exploration and characterization in areas that meet the goals of the Ocean Exploration Cooperative Institute. Video analyses done post-expedition will be done by the Deep Sea Coral Research and Technology Program. OET's work continues to contribute to Nippon Foundation-GEBCO Seabed 2030, an ambitious project to create a free, definitive, and publicly available map of the world's ocean floor by the year 2030.
"To date, just over half of all the United States' underwater territories have been mapped with modern precision; and most areas have not been systematically studied or explored," says Dr. Aurora Elmore, the Cooperative Institute Manager for NOAA Ocean Exploration. "By working closely with partners like the OECI and OET, we are working to fully explore the deep sea in support of national priorities."
This research is being conducted under a Special Use Permit issued by the U.S. Fish and Wildlife Service in consultation with the National Marine Fisheries Service.
This expedition is funded by NOAA Ocean Exploration via the Ocean Exploration Cooperative Institute.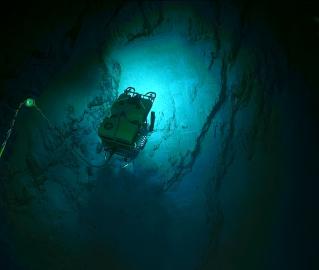 E/V Nautilus Expedition
Our first live expedition of 2023 brings us back to the region of Kingman Reef and Palmyra Atoll as part of our ongoing effort to explore the deep ocean in and around the Pacific Remote Islands Marine National Monument (PRIMNM) through the Ocean Exploration Cooperative Institute.