Video:
Swimming Squat Lobster
No, that's not a spider, but it sure looks like one! Our Corps of Exploration came across this strange-looking arthropod at over 1,600 meters deep while exploring "Guyot 12" in the Pacific Remote Islands waters. This long-legged isopod was later identified as a squat lobster in the family Chirostylidae, tentatively identified in the genus Gastroptychus by Dr. Mary Wicksten at Texas A&M University. While scientists have seen these types of squat lobsters resting on corals, this may be the first documentation of them moving in the water column. 
Learn more about this expedition funded by NOAA Ocean Exploration via the Ocean Exploration Cooperative Institute.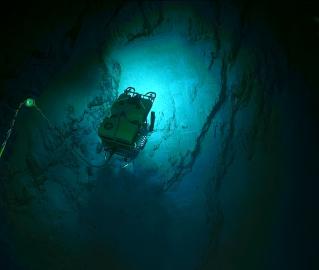 E/V Nautilus Expedition
Our first live expedition of 2023 brings us back to the region of Kingman Reef and Palmyra Atoll as part of our ongoing effort to explore the deep ocean in and around the Pacific Remote Islands Marine National Monument (PRIMNM) through the Ocean Exploration Cooperative Institute.