Technology:
Laser Divebot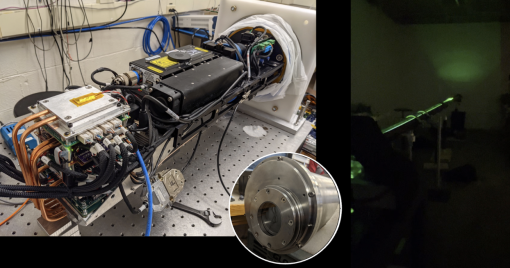 Ocean Exploration Trust
The SETI Institute and Impossible Sensing's Laser Divebot spectrometer adapts the best of space exploration technologies to the unique challenges of the deep sea. They've built a new tool that will be mounted on ROV Hercules to identify mineral deposits and associated biological communities in a non-destructive manner. This breakthrough enables rapid compositional mapping of materials across the seafloor using a state-of-the-art laser spectroscopy suite. Laser divebot brings the chemistry lab to the seabed, a true paradigm shift in ocean exploration. 
The In-situ Vent Analysis Divebot for Exobiology Research project is a mission to advance sensing systems for use in exobiology exploration of ocean worlds beyond Earth. The deployment on ROV Hercules during the exploration of seamounts near Kingman Reef & Palmyra Atoll will be the tool's first ocean deployment. Testing will include engineering trials and data verification studies comparing samples analyzed by the Laser Divebot on the seafloor and ashore. 
The heart of this innovation is a laser spectroscopy suite that brings long-range and ultra-high sensitivity laser Raman and laser fluorescence spectroscopy to the seafloor for the first time. This powerful combination allows us to map vast areas of the seafloor with remarkable speed and accuracy. The optics continuously adjust the focal length to handle the ocean's varied topography while maximizing signal return making the tool adjustable for on-the-fly surveys, limited only by the speed of the underwater vehicle. The Divebot also introduces an advanced spectrometer capable of analyzing mineralogical and organic composition right on the device itself, making it perfect for missions with limited or no ground support.
The Laser Divebot was built at Impossible Sensing in cooperation with the SETI Institute, the University of Hawai'i, and the University of Washington's Applied Physics Laboratory. Other partners include Honeybee Robotics, NASA's Jet Propulsion Laboratory, SUNY, GSB, the University of Southern California, the University of Southhampton, and the Oak Crest Institute of Science. Funding to develop and deploy the technology for this seafloor expedition was provided by NASA, the NOAA Ocean Exploration via the Ocean Exploration Cooperative Institute, and the Bureau of Ocean Energy Management.
Learn more about the In-situ Vent Analysis Divebot for Exobiology Research project.
Science & Tech
Ocean exploration is a dynamic balance of understanding science and using the best in underwater technology.
Expeditions
Get a sneak peek of where we're headed next or revisit the discoveries of our past expeditions.
Classroom Resources
OET hosts a suite of free educational materials for use in classrooms, at home, or in the community.
Laser Divebot At-a-Glance
1,500 meters
1 m long, 30 cm round
50 kilograms
Green and ultraviolet
Raman (minerals) and fluorescence (organic and life-related compounds)
1 to 5 meters
5 to 10 mm
Strobe