Photo album:
Sula sula spotlight: red-footed boobies join the expedition
Beneath the waves and above, Papahānaumokuākea Marine National Monument is home to beautiful biodiversity. Throughout the month and over the 2,000-mile journey, near the islands and atolls and far offshore seabirds have escorted Nautilus. Meet some of the red-footed boobies, Hawaiian name ʻā, scientific nomenclature Sula sula a beloved seabird characterized by its pale blue beak and red feet, who joined the Ala ʻAumoana Kai Uli expedition as photographed by onboard scientist Upasana Ganguly.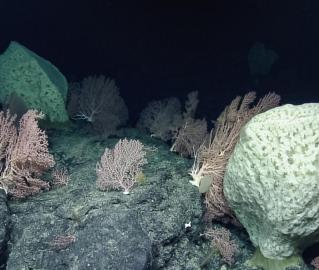 E/V Nautilus Expedition
Ocean Exploration Trust and partners will conduct a telepresence-enabled expedition to explore unseen deep-sea habitats aboard E/V Nautilus with ROV and seafloor mapping operations in the Papahānaumokuākea Marine National Monument (PMNM) focused on the largely unexplored northwestern section of the Monument.