Bacterial mats and ciliate carpets in the North Guaymas Basin of the Gulf of California offered stunning imagery during seven dives to survey geologic features and sample fluids, rocks, and organisms thriving among hydrothermal vent systems. The elemental composition of the rocks and hydrothermal vent fluids enable these bacterial mats to flourish, making these chemosynthetic organisms the basis of the food chain at these deep sea oases. Click through to learn more about the unusual life we encountered around these actively venting black smokers.
Contributed by Lead Science Communication Fellow Elizabeth Fahy and Science Communciation Fellows Jennifer Runyan and Alfonso Garcia Arriola.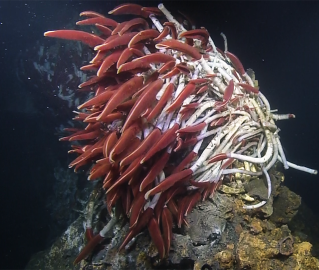 Expedition
Moving closer to shore, Nautilus will begin to explore the Gulf of California (GOC), one of the most notable bodies of water on Earth. Thanks to the nutrient-rich waters that once flowed from the Colorado, the GOC was among the most productive of seas and is diverse in its geography, geology, oceanography, and biology. The GOC is an area of active seafloor spreading directly linked to the San Andreas Fault System.