Video:
Fiery Riftia Tube Worms Near Guaymas Basin Vents
Black smoker vents. Bubbling cold seeps. Fiery Riftia tube worms. Velveteen mats of purple ciliates. Over seven dives in the Guaymas Basin of the Gulf of California, we explored a deeply diverse array of hydrothermal vent ecosystems with Woods Hole Oceanographic Institution.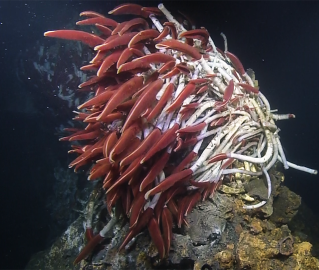 Expedition
Moving closer to shore, Nautilus will begin to explore the Gulf of California (GOC), one of the most notable bodies of water on Earth. Thanks to the nutrient-rich waters that once flowed from the Colorado, the GOC was among the most productive of seas and is diverse in its geography, geology, oceanography, and biology. The GOC is an area of active seafloor spreading directly linked to the San Andreas Fault System.