Video:
Expedition in 60 Seconds: Gulf of California
Deep within central Gulf of California, the North Guaymas Basin was previously interpreted to be hydrothermally inactive based on submersible dives in the 1980s. However, surveys conducted at that time showed evidence of past hydrothermal activity, and in 2015 an active black smoker site was discovered in 2015--causing scientists to take a closer look at this unique region! Since that time the Guaymas basin has been extensively studied through scientific drilling and submersible surveys, and this Nautilus expedition will focus on unexplored regions with possible hydrothermal vent and seeps systems. Launching October 20-27, 2017, this expedition marks the first exploration in the Gulf of California for E/V Nautilus and the Corps of Exploration.
Learn more about the Gulf of California-Guaymas Basin Expedition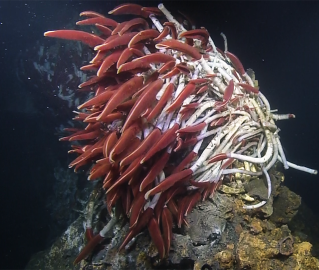 Expedition
Moving closer to shore, Nautilus will begin to explore the Gulf of California (GOC), one of the most notable bodies of water on Earth. Thanks to the nutrient-rich waters that once flowed from the Colorado, the GOC was among the most productive of seas and is diverse in its geography, geology, oceanography, and biology. The GOC is an area of active seafloor spreading directly linked to the San Andreas Fault System.