Photo album:
U-boat Wreck Dive: Photos of U-2513
During our exploration of the Dry Tortugas, E/V Nautilus dove on the wreck of a German U-boat with an unusual history. Production wasn't started on this hull until the middle of 1944 and the ship was commissioned in October that year. This submarine conducted a grand total of zero war patrols before surrendering to Allied forces in May of 1945. After a few stops in Europe, ownership of the sub was turned over to the U.S. Navy for research on the U-boat's design and on potential antisubmarine warfare tactics. Learn more about U-2513 more here, or watch full video highlights from the dive here.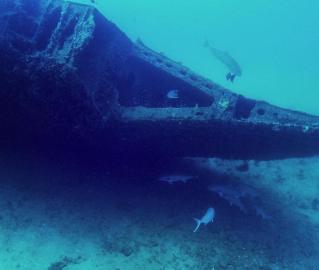 Expedition
NOAA's Office of National Marine Sanctuaries selected two deep-water areas off southwest Florida to better understand the ecological connectivity of deep-water biological habitats and communities to the Florida Keys National Marine Sanctuary, the Tortugas Ecological Reserve, and Pulley Ridge Habitat.