Video:
FOUR Fabulous Fossilized Whale Jaws
The Pacific Remote Islands seamounts have been rich habitats for millions of years! While exploring seamounts in US waters north of Kingman Reef, our Corps of Exploration have come across not one, not two- but FOUR partial fossilized whale skulls! The first was sampled on Guyot 123 and identified as a fossilized portion of a beaked whale skull. ROV Hercules collected the sample over 2,100m below sea level. While age estimates are not possible from simple visual analysis, the bone has been laying on the seabed long enough to be encrusted by black ferromanganese crust indicating potentially hundreds of thousands or millions of years. Similar to other fossilized beaked whale skulls documented by OET in the Central Pacific, this sample appears to be a rostrum bone - an especially dense part of the skull. 
During a later dive on the eastern flank of guyot site 13, we collected two other ferromanganese-crusted jaw pieces at 1,778 meters and 1,830 meters. A fourth specimen was sampled at 1,860 meters on another seamount, titled seamount 5 for the expedition. All four samples were found on the slopes of submerged ancient volcanoes in within 200 nautical miles of US territories Kingman Reef and Palmyra Atoll. Exploration of this region provides data to help understand the formation, history, and modern biodiversity of the region. Samples will be sent to the Museum of Comparative Zoology at Harvard University and the Marine Geological Samples Laboratory at the University of Rhode Island. Scientists ashore will study these samples to determine if they can make a more specific animal identification and age estimate.
E/V Nautilus explores areas of the deep sea that have never or rarely been seen by human eyes, so it is crucial to have a record of the environment and organisms found below. Our team collects biological, geological, and water specimens using remotely-operated vehicles and processes samples in our shipboard lab before sharing them with international express and publicly-accessible databases. Exploration data helps build a global understanding of deep ocean environments and informs science and management needs. 
Learn more about this expedition funded by NOAA Ocean Exploration via the Ocean Exploration Cooperative Institute.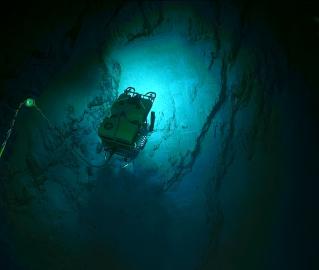 E/V Nautilus Expedition
Our first live expedition of 2023 brings us back to the region of Kingman Reef and Palmyra Atoll as part of our ongoing effort to explore the deep ocean in and around the Pacific Remote Islands Marine National Monument (PRIMNM) through the Ocean Exploration Cooperative Institute.