Video:
Wow Wildlife Moments from the Deep Waters Near Kingman Reef
'We can see most of the major taxa here!' 
Our first expedition of 2023 has revealed treasure after treasure of deep sea wildlife viewing! Catch up with some of our favorite moments from ROV Hercules' footage from exploring ancient seamounts in US waters north of Kingman Reef and Palmyra Atoll. How many of the species can you name? 
Check out an acorn worm leaving trails of digested sediment as it travels along the seafloor, a Hymenaster slime star tumbling along tangled with a sea urchin, and a narcomedusa jellyfish likely to be yet another undescribed species from the deep. Along the seamount the team has also documented stunning biodiverse outcrops of many different corals (including plexaurids, primnoids, Chrysogorgia sp, mushrooms, bamboos, and more) as well as the colorful neighbors who utilize this habitat like bright pink squat lobsters, purple Enypniastes sea cucumbers. Were you watching live when we spotted the solitary hydroid with the triple layers of tentacles and the fan-favorite "grumpy faced" Chaunacops sp. anglerfish? Relive each moment with this compilation. 
This expedition brings the Ocean Exploration Trust team to explore waters around the US territories of Kingman Reef & Palmyra Atoll, one of the most biodiverse regions of the Central Pacific. Diving our remotely operated vehicles along ancient seamounts estimated to be 80-120 million years old, these deep sea communities are being investigated and explored for the first time by human eyes. Increasing the baseline of knowledge about geological history and habitat patterns is especially important because the region is currently nominated for consideration as a National Marine Sanctuary, a process seeking public input. 
Learn more about this expedition funded by NOAA Ocean Exploration via the Ocean Exploration Cooperative Institute.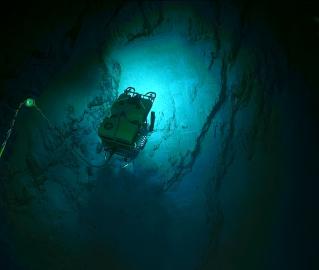 E/V Nautilus Expedition
Our first live expedition of 2023 brings us back to the region of Kingman Reef and Palmyra Atoll as part of our ongoing effort to explore the deep ocean in and around the Pacific Remote Islands Marine National Monument (PRIMNM) through the Ocean Exploration Cooperative Institute.