Video:
Sneak Peek at Johnston Atoll's Amazing Biodiversity
Take a first look at some of the impressive animals we've spotted in our first few dives of expedition NA141 exploring deep seamounts ~150 miles south of Johnston Atoll. From tripod fish to spiral-stalked corals to glass sponges, this is just a taste of what's to come as we continue to survey never-before-explored areas of the seafloor in this region of the Pacific Remote Islands Marine National Monument (PRIMNM).
Utilizing data from previous Nautilus mapping expeditions, Schmidt Ocean Instituteʻs R/V Falkor, and the NOAA CAPSTONE campaign, we are targeting ROV dives along ridge features to expand our understanding of prime deep sea coral and sponge habitat. While conducting surveys of the density and diversity of benthic communities, we will also be acquiring physical and chemical data supporting PRIMNM's conservation goals, as well as rock samples for geological analysis on the history and formation of this region.
Learn more about this expedition funded by NOAA Ocean Exploration via the Ocean Exploration Cooperative Institute.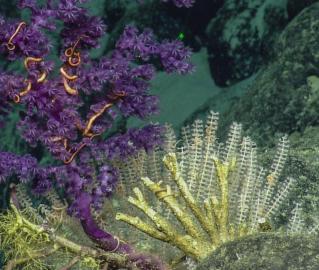 E/V Nautilus Expedition
Johnston Atoll, one of the most isolated atolls in the world, is located in the central Pacific Ocean, between the Hawaiian Islands, the Line Islands, and the nation of Kiribati. Around this atoll, the Pacific Remote Island Marine National Monument (PRIMNM) was expanded in 2014 to protect the full 200 nautical mile perimeter of the exclusive economic zone (EEZ) encompassing many unexplored seafloor features.