Video:
Never-Before-Surveyed Seamount Reveals Stunning Biodiversity
Throughout the expedition Luʻuaeaahikiikapapakū, the team visited never-before-surveyed seamounts searching for high-density coral and sponge communities working to identify potentially new-to-science biological specimens. The slopes of this unnamed Central Pacific seamount near Don Quixote Seamount treated the team to dramatic views of the stunning biodiversity of Papahānaumokuākea Marine National Monument.
Like shallow reefs, deep-sea coral gardens are made up of many different species that come in all shapes, colors, and sizes and our team never tires of exploring them; some of these sightings even prompt the Lead Scientist's coveted "Double Guacamole" rating from the control room! These dual-ROV views show sponges, corals, crustaceans, hydroids, sea cucumbers, in hotspots of biological diversity that require a deeper understanding for future conservation efforts.
This expedition will contribute data to better understand these amazing communities and increase our knowledge of how and where they form. Locating, characterizing, and understanding the distribution of these hot-spots of biological diversity are of particular interest to managers and researchers for future conservation and exploratory efforts.
Learn more about this expedition sponsored by NOAA Ocean Exploration and the NOAA Office of National Marine Sanctuaries.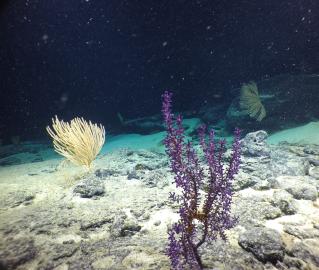 E/V Nautilus Expedition
Returning to Papahānaumokuākea Marine National Monument (PMNM) after an expedition in 2018, our team will be conducting ROV surveys on a chain of seamounts, and document whether these underwater mountains support vibrant coral and sponge communities like others in the region.