Video:
Lacey Leaf Tretopleura Sponge Spotted on Unnamed Seamount A
While diving on Unnamed Seamount A investigating the Wentworth Seamount chain of Papahānaumokuākea Marine National Monument, the team has encountered many large healthy leaf sponges. This ruffled Tretopleura sponge stands over a meter tall capturing food from the currents along the seamount sides! Our expedition aims to document the variety of coral and sponge communities that live along the flanks of these seamounts, which can be hot spots of biological diversity that require a deeper understanding for future conservation.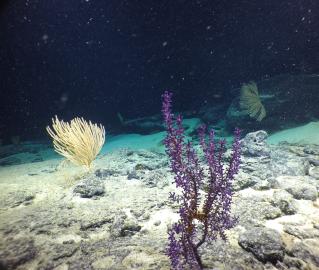 E/V Nautilus Expedition
Returning to Papahānaumokuākea Marine National Monument (PMNM) after an expedition in 2018, our team will be conducting ROV surveys on a chain of seamounts, and document whether these underwater mountains support vibrant coral and sponge communities like others in the region.