Video:
Rescue Mission to Recover Ocean Exploration Trust's ROVs
In deep-sea exploration and research, teamwork and collaboration are essential to document and understand the most hidden depths of our planet. Last week, a different kind of joint effort was live-streamed around the world as Ocean Exploration Trust — with assistance from many individuals and groups from the deep-sea community — worked to recover ROVs Hercules and Argus from the seafloor just one week after they became detached from the cable that connects them to E/V Nautilus. Over the course of 26 hours, Woods Hole Oceanographic Institution's ROV Jason team deployed their vehicle from the University of Washington's R/V Thomas G. Thompson and were able to work with the team aboard Nautilus to safely rescue both vehicles. In this short recap video, go behind the scenes of these operations from the Nautilus' control room and back deck and learn more about the complex rescue process from our team onboard. 
Our gratitude for the success of this operation goes out to the many partners and collaborators who contributed their assistance, equipment, and expertise. We are especially thankful to the National Science Foundation, University-National Oceanographic Laboratory Systems, University of Washington, WHOI National Deep Submergence Facility, the WHOI ROV Jason team, Ocean Observatories Initiative, Office of Naval Research, the crews and expedition teams of R/V Thomas G. Thompson (TN-393C) and E/V Nautilus (NA129 & NA129b), Maritime Management, Leviathan, Ocean Networks Canada, Fisheries and Oceans Canada, Oregon State University, Schmidt Ocean Institute, NOAA Ocean Exploration, NOAA Office of National Marine Sanctuaries, NOAA Ocean Exploration Cooperative Institute, and OET staff and contractors. 
In addition to support from across the deep-sea research and exploration community, students, educators, and the general public joined us from around the world to remotely engage in this recovery mission and offer encouraging messages. Ocean Exploration Trust deeply appreciated this encouragement and was inspired to witness the care and connection millions of viewers feel for the deep ocean, including research technologies like ROVs Hercules and Argus. With the vehicles back on board, we look forward to continuing to share cutting-edge exploration and moments of excitement, discovery, and inspiration live from the seafloor as the 2021 expedition season continues on NautilusLive.org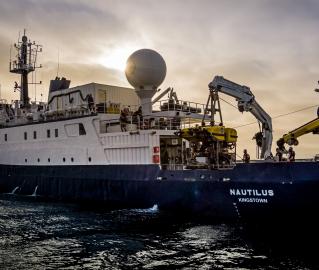 E/V Nautilus Expedition
On Thursday, August 26, 2021, remotely-operated vehicles (ROVs) Hercules and Argus became detached from the cable connecting them to E/V Nautilus at a depth of 2220m off the coast of Vancouver Island, British Columbia. The Ocean Exploration Trust team is now investigating the cause of the detachment and transitioning to a plan to recover the vehicles, which are still tethered together and residing on the seafloor at a known depth and location.