Video:
Meet the Team: Tiny Microplastics in the Big Deep Sea
Did you know there are plastic materials in the ocean the human eye can't see? Tiny pieces and particles of plastics called microplastics. Join Corps of Exploration member Kelly Moran as she talks to Taylorann Smith, an Ocean Science Intern alumna and Science Manager-in Training on E/V Nautilus who researches how microplastics affect ocean ecosystems and overall health and will be trialing new deepsea sampling techniques this year. Learn about her graduate school project in the Ecological Oceanography lab at California State University at Northridge, and how she hopes to incorporate her interests and background into her future career.
This event developed in partnership with the National Marine Sanctuary Foundation.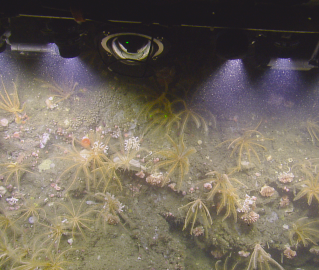 E/V Nautilus Expedition
The Olympic Coast National Marine Sanctuary is a biologically diverse and ecologically rich region that encompases nearly 8,250-square-kilometers (3,200 square miles) of coastal and ocean habitats along the wild, remote and scenic Olympic Coast of Washington State.