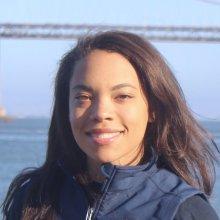 Taylorann Smith
Science Manager-In-Training
Graduate Student
California State University- Northridge
Tell us about your work/research. What kinds of things do you do?
I am currently a Masters student working on my M.S. in Marine Biology. My current scope of work focuses on microplastic pollution, specifically identifying areas in which microplastics may accumulate, and if so, what types of microplastics are most dominant. I have been fortunate enough to collect samples from the deep sea via the E/V Nautilus during my time as a science manager in training.
What sparked your initial interest in your career?
Pure curiosity and exploration. As a child, I always loved to be outdoors discovering new things in nature. To me, that was science, and that is what I wanted to grow up to do. I didn't know a career field like that existed, but OET does an excellent job executing scientific exploration.
Who influenced you or encouraged you the most?
My older sister and mother encouraged me to go to college. As first generation college students, higher education was new territory, so I thank my sister for inspiring me to continue on with my education.
What element of your work/study do you think is the most fascinating?
I just think it's amazing how there are so many brilliant minds with specific skills in interests that can be combined to create tools that help us explore untouched parts of our own ocean! And to think I get to work with these beautiful people, it's incredible!
What other jobs led you to your current career?
Mostly my educational experiences led me to this current career track. As an undergraduate student, I volunteered in labs to get basic exposure to a lab setting, I was a TA for a biology class, and spent a lot of time applying to internships. I Was turned down for more internships than I was accepted due to the competitive nature of the field, but being persistent really pays off.
What are your degrees and certifications?
Bachelor of Science in Biology -- Ball State University 2018
What are your hobbies?
I love learning new ways to express my creativity. In my free time I love to create art, whether that's a drawing or painting, a custom pair of sneakers, or write a poem. In addition to my creative hobbies, I love to travel and spend time outdoors learning about life around me. I am also attempting to learn my first instrument, the sitar!
How did you get involved with the Nautilus Exploration Program?
I applied for the Ocean Science Internship after hearing about it from a professor of mine at Duke University Marine Lab. I thought it sounded amazing, so I put forth an application along with a lot of hope!
What advice would you give someone who wants to have a career like yours?
Never give up. As cheesy as that sounds, it's what has gotten me here! Follow your passions, and spend your time figuring out how to blend them all together to add your unique self to your desired field! I believe it is my passion and outlook that has earned me a lot of the opportunities I have received. Yes, grades matter, but perfection is unattainable. I think the most important thing to know is how to adapt, learn, and grow.