Video:
Next on Nautilus: Microbes, Methane, and Medicine from the Deep Sea
Off the coast of Washington State, more than 2000 naturally-occurring methane seeps have been identified over the past decade! These extreme marine ecosystems fuel seafloor life, including thriving chemosynthetic communities with deep-sea bacteria that may be used for medicinal purposes. Learn more about how our team is working with researchers from Oregon State University, funded by the NOAA Office of Ocean Exploration and Research, to study this unique environment.
In this event, meet Corps of Exploration member Madison Dapcevich, in conversation with Lead Scientist Dr. Andrew Thurber, onshore scientist Dr. Kerry McPhail, and graduate students Susie Cummings and Lila Ardor Bellucci This event originally aired September 17, 2020.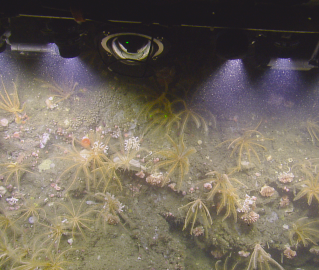 E/V Nautilus Expedition
The Olympic Coast National Marine Sanctuary is a biologically diverse and ecologically rich region that encompases nearly 8,250-square-kilometers (3,200 square miles) of coastal and ocean habitats along the wild, remote and scenic Olympic Coast of Washington State.