Video:
Baleen Whale Fall Becomes a Deep Sea Banquet at Davidson Seamount
The banquet continues! Yesterday we made a surprise baleen whale fall discovery that viewers around the globe watched alongside the Nautilus team in Monterey Bay National Marine Sanctuary. Get a close up look at some of the scavenging diners including eel pouts, octopus, and polychaete worms--like the bone-eating Osedax worms that carpet the whale's bones in red fringe.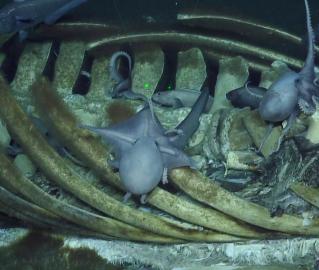 Expedition
The main objectives of this expedition are to revisit and further characterize the "octopus garden,"  an unexplored, deep-water region of basaltic rocky reef that resides southeast of Davidson Seamount, within the borders of Monterey Bay National Marine Sanctuary (MBNMS). In October 2018, Nautilus and MBNMS discovered extensive aggregations of over 1,000 brooding female octopuses (Muusoctopus robustus).