Video:
Whale Fall Actively Devoured by Scavengers at Davidson Seamount
During the final dive of this year's Nautilus expedition season, our team discovered a whale fall while exploring Davidson Seamount off central California's coast with researchers from Monterey Bay National Marine Sanctuary. The skeletal remains of the whale lying on its back are estimated to be 4-5 meters long. The team is working to identify the species, but it is confirmed to be a baleen whale as indicated by baleen remaining along the whale's jawbones. 
While evidence of whale falls have been observed to remain on the seafloor for several years, this appears to be a relatively recent fall with baleen, blubber, and some internal organs remaining. The site also exhibits an interesting mid-stage of ecological succession, as both large scavengers like eel pouts are still stripping the skeleton of blubber, and bone-eating Osedax worms are starting to consume lipids (fats) from the bones. Other organisms seen onsite include crabs, grenadier, polychaetes, and deep-sea octopus.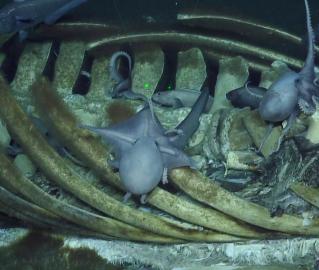 Expedition
The main objectives of this expedition are to revisit and further characterize the "octopus garden,"  an unexplored, deep-water region of basaltic rocky reef that resides southeast of Davidson Seamount, within the borders of Monterey Bay National Marine Sanctuary (MBNMS). In October 2018, Nautilus and MBNMS discovered extensive aggregations of over 1,000 brooding female octopuses (Muusoctopus robustus).