Video:
Unusual Invertebrates of Ta'u Island
"What is that?" "Those exist in real life?!" Exploring along the eastern ridge of Ta'u Island with our partners at the National Marine Sanctuary of American Samoa, our seafloor sightings included venus flytrap anemones, tiny translucent sea slugs, sprawling sea spiders, and other unusual invertebrates as the ROVs explored along 645m depth.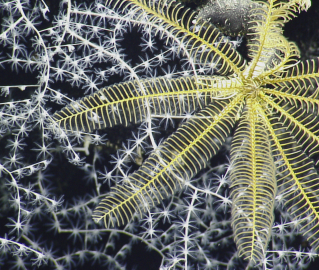 Expedition
The main objective of this expedition is to acquire baseline information on deep-sea and mesophotic habitat in American Samoa, with a special focus on the National Marine Sanctuary of American Samoa (NMSAS). Within deep-sea habitats, seafloor geology and biological communities will be documented and potentially new species of deep-sea coral and subsamples of rocks will be collected. In addition to seafloor mapping with multibeam sonar, a Lagrangian float will be utilized to capture high resolution photographic images of the mesophotic zone and associated biota.