Video:
Towering Coral Colonies of Jarvis Seamount
"That's one of the biggest primnoid corals I've ever seen in my *entire* life!" Massive, branching, bright pink corals stunned our scientists and mission control team as they surveyed these colonies towering over 6 feet tall and providing habitat for countless other creatures. Spotted around Jarvis Seamount around 911m depth. 
Delve into the diversity of deep sea corals in the Central Pacific.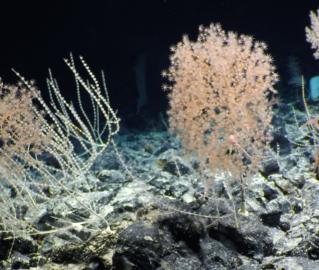 Expedition
Deep waters in the remote central Pacific remain some of the most poorly studied environments on Earth. This expedition will focus on exploring deep-water features in the vicinity of Kingman Reef, Palmyra Atoll, and Jarvis Island within the Pacific Remote Islands Marine National Monument. The waters of these remote Pacific territories are among the least explored U.S. holdings in the Pacific Ocean.