Video:
Dumbo Octopus Photobombs Seafloor Survey
"Hello" "WOW" "Hi friend!" The Nautilus mission control erupts in excitement and adoration when a dumbo octopus (Grimpoteuthis sp.) photobombs our team's visual survey of rocky ridges with ROV Hercules. Those ear-like fins help the octopus swim above the seafloor--and inspired its common name! Spotted along Kingman Ridges at 1675m, near Kingman Reef.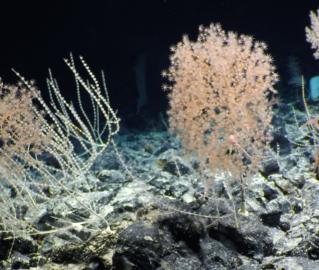 Expedition
Deep waters in the remote central Pacific remain some of the most poorly studied environments on Earth. This expedition will focus on exploring deep-water features in the vicinity of Kingman Reef, Palmyra Atoll, and Jarvis Island within the Pacific Remote Islands Marine National Monument. The waters of these remote Pacific territories are among the least explored U.S. holdings in the Pacific Ocean.