Video:
Piglet Squid Siphon Looks Like a Snout
"What are you?" "What is that?!" The Nautilus team enjoyed a quick close-up with a see-through piglet squid (Helicocranchia sp.), named for its large siphon that looks like a snout. Able to regulate buoyancy with an ammonia-filled internal chamber, this stunning squid is often observed with its tentacles flared above its head. 
Spotted at 1385m near Palmyra Atoll. Learn more about this expedition.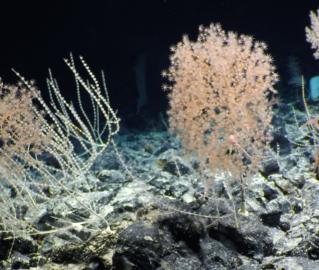 Expedition
Deep waters in the remote central Pacific remain some of the most poorly studied environments on Earth. This expedition will focus on exploring deep-water features in the vicinity of Kingman Reef, Palmyra Atoll, and Jarvis Island within the Pacific Remote Islands Marine National Monument. The waters of these remote Pacific territories are among the least explored U.S. holdings in the Pacific Ocean.