Video:
Massive Aggregations of Octopus Brooding Near Shimmering Seeps
We observed over a thousand deep sea octopus (Muusoctopus robustus) while exploring Davidson Seamount with Monterey Bay National Marine Sanctuary. Never before seen in these massive aggregations, most female octopus were resting in a brooding posture, tucked into rocks with eight arms inverted covering their bodies and eggs. Many were tucked into rocks near shimmering fluid seeps, which were previously unknown to occur in this region!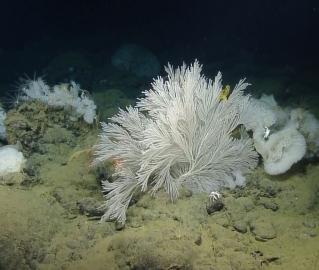 Expedition
The main objective of this expedition is to characterize an unexplored, deep-water region of basaltic rocky reef that resides southeast of Davidson Seamount, within the borders of Monterey Bay National Marine Sanctuary (MBNMS) to characterize habitat, species, and communities. Although extensive previous ROV dives have occured on the seamount proper, there is deep rocky habitat southeast of the seamount that could harbor additional communities of corals and sponges.