Video:
Wiring the Abyss: Seafloor Tech and Neutrino Sensors
Deep sea engineering takes a team! The Nautilus team is finishing up a two week expedition with Ocean Networks Canada to set up new instruments that keep scientists connected to the deep sea. Check out some highlights from the first week of the Wiring the Abyss 2018 expedition, including installing an experimental platform to test a site's suitability for future neutrino-detecting experiments! Learn more about the expedition.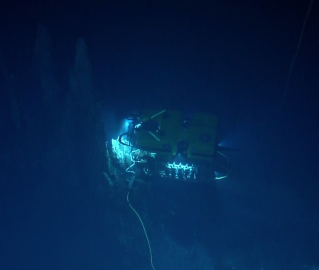 Expedition
This expedition marks the fourth season of E/V Nautilus exploring Canadian waters in partnership with Ocean Networks Canada. The main objective of this expedition is to provide maintenance and support of Ocean Networks Canada's NEPTUNE observatory located off the west coast of Canada.