Video:
Ask #NautilusLive: Will We Find Meteorites?
As Nautilus is starting to hunt for a massive meteorite fall off the Washington coast, we asked the team aboard: do you think we'll actually find any?
Check out what our scientists, engineers, educators, and research partners from NOAA's Olympic Coast National Marine Sanctuary, NASA's Johnson Space Center, and University of Washington have to say about the likelihood of pinpointing where these spacerocks splashed down in the Pacific Ocean!
Explore with us LIVE on Monday, July 2, 2018 from ~9am-4pm PT as we search the seafloor at NautilusLive.org!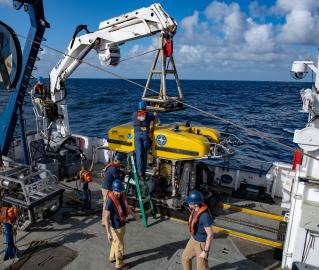 Expedition
This short expedition will transit from Astoria, Oregon to Sidney, British Columbia and will include seafloor mapping with the E/V Nautilus multibeam echosounder and sub-bottom profiler. Surveys will occur along the route on an opportunity basis to fill in gaps in high resolution mapping in the Olympic Coast National Marine Sanctuary for general bathymetric data collection and seafloor characterization.